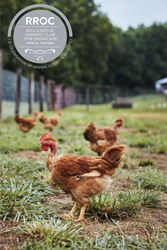 "Rolls-Royce is synonymous with quality and the ultimate in luxury. It is rewarding for our company to be recognized for the values we share in pursuing a higher standard for meat and poultry production." - Ron Joyce, President and CEO of Joyce Farms
WINSTON-SALEM, N.C. (PRWEB) August 14, 2018
Joyce Farms, the premier provider of all-natural and heritage breed meat and poultry, is among the featured companies in "Strive for Perfection," a new publication created exclusively for the Rolls-Royce Owners' Club. The club will celebrate the launch of the book at its Annual Meet at The Resort at Squaw Creek in Lake Tahoe on August 18.
The hardback, coffee-table book was produced in partnership with publisher St. James's House and celebrates Rolls-Royce's unceasing pursuit of excellence – an ethos that earned Rolls-Royce the status of "best car in the world." The publication also serves as a carefully curated guide to some of the most must-have luxury products and experiences in the world.
"We are honored to be among the elite brands and products profiled in this collection," said Joyce Farms President and CEO Ron Joyce. "Rolls-Royce is synonymous with quality and the ultimate in luxury. It is rewarding for our company to be recognized for the values we share in pursuing a higher standard for meat and poultry production. We want people to enjoy food the way it used to taste."
Joyce Farms is featured in the guide for rejecting industrial farming practices in the pursuit of bringing back old-world flavor to North America. The family-owned company is profiled for its achievements in high-quality poultry, meat and game farming and fostering the resurgence of heritage breeds. Joyce Farms' commitment to regenerative agriculture – a standard practice for its farms – is also recognized as part of its holistic approach to bring back flavor. Regenerative agriculture is a method of farming that builds soil health and enhances ecosystem diversity, ultimately offering increased profitability to farmers, a more humane life for livestock, a healthier ecosystem and healthier food for everyone.
The annual RROC event is one of the world's most celebrated luxury events where more than 1,000 Rolls-Royce and VIP guests are expected to gather together. The event is being held August 11 – 18.
Joyce Farms products are available wholesale to chefs and distributors. Consumers can find the company's products in fine-dining restaurants, select specialty retail locations and online at Joyce-Farms.com.