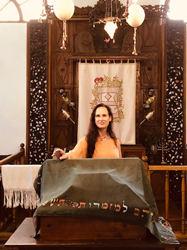 "It is Rabbi Goldberg's mission to heal the world one person at a time, and in this book she explains the way she uses kabbalah, physical technique and energy to yield a very powerful roadmap towards holistic healing-that of mind, body and spirit. " Rabbi Steven Blane
LAS VEGAS (PRWEB) February 10, 2020
A graduate of Jewish Spiritual Leaders Institute and member of the Union of Jewish Universalist Communities, Rabbi Jordania Goldberg spreads her vision of peace. From co officiating at High Holiday services in Greece to the publication of her new book she continues her efforts of repairing the world (Tikun Olam.)
In January, Rabbi Jordania opened iPath Counseling where she will be conducting virtual care counseling as well as published her book, "KSTechnique, Helping Heal the World One Person at a Time." KST is a culmination of Rabbi Jordania's life work. It is an effective healing modality that is based on traditional Kabbalah. Endorsements from Rabbi Steven Blane, Daniel C. Matt and Susanna Adamovic, MFT, describe the book well and more information will be available at kstechnique.com.
This past year Rabbi Jordania co-led High Holy Day services at Etz Hayyim Synagogue in Crete, Greece. Her two days of Rosh Hashanah services ended up being eight days of services that went through Sukkoth. During the High Holiday season, two of her photographs were incorporated into an art show at Etz Hayyim. The show celebrated the 20 year rededication of Etz Hayyim following its destruction during WWII.
Rabbi Jordania is proud to be a part of Etz Hayyim since it directly mirrors the values or both JSLI and UJUC. Rabbi Jordania is an example of how the UJUC community of rabbis are helping express the diversity of Universalism in Judaism today.
"Rabbi Jordania Goldberg has created a new healing modality utilizing energy healing, framed through the wisdom of Kabbalistic concepts. In this book she shares KST (Kabbalah Somatic Technique) with the world. It is Rabbi Goldberg's mission to heal the world one person at a time, and in this book she explains the way she uses kabbalah, physical technique and energy to yield a very powerful roadmap towards holistic healing-that of mind, body and spirit. One can only be grateful for her insight, passion and dedication. May KST yield great success for Rabbi Jordania and the world!" -Rabbi Steven Blane, Sim Shalom Jewish Universalist Synagogue
ABOUT SIM SHALOM, JSLI AND UJUC
Sim Shalom is an interactive online Jewish Universalist synagogue which is liberal in thought and traditional in liturgy. Created in 2009 by Rabbi Steven Blane on Manhattan's Upper West Side, Sim Shalom offers a means of connecting the unconnected. Rabbi Blane leads accessible and short Shabbat services every Friday night using a virtual interface and additionally Sim Shalom provides online education programs, conversion and life-cycle ceremonies along with weeknight services at 7:00PM EST led by other Rabbis.
Rabbi Blane is also the founder and director of the Jewish Spiritual Leader's Institute, http://www.jsli.net, the online professional rabbinical program and co-founder of the Union of Jewish Universalist Communities.
Sim Shalom, a non profit 501 © (3) tax-exempt organization, nurtures a Jewish connection through its mission of innovative services, creative education and dynamic outreach to the global community.
For more information visit http://www.simshalom.com or call 201-338-0165.