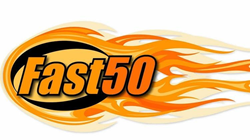 "Being honored by the Orlando Business Journal is a great accomplishment and solidifies our impact in driving economic growth in Central Florida. We look forward to continuing to work with the OBJ for many years to come as we execute our strategic plan for future growth," said John Majewski, Preside
TAVARES, Fla. (PRWEB) June 05, 2019
JSM & Associates (JSM), a leading Baggage Handling System (BHS) Design, OAR and Operations/Maintenance firm, is pleased to announce it was recently recognized as one of the 50 fastest growing businesses in Central Florida by the Orlando Business Journal.
Established in 2008, JSM's value is derived from our experienced and knowledgeable employees as well as, our management team's vision in providing our airport clients with proven BHS technology, custom solutions, system analysis expertise and empowered site management.
JSM continues to provide its airport clients modern, innovative and cost-effective BHS Design, Consulting, Owners Authorized Representatives (OAR), and Operations and Maintenance services. With our continued growth, we value long-term relationships over short-term gains while maintaining a flat organizational structure.
In addition to the Central Florida Fast 50 award, JSM has also received accolades for being one of Central Florida's Largest Engineering Firms also by the Orlando Business Journal. The full rankings will be revealed at a June 6th event in Orlando, Florida.
"Being honored by the Orlando Business Journal is a great accomplishment and solidifies our impact in driving economic growth in Central Florida. We look forward to continuing to work with the OBJ for many years to come as we execute our strategic plan for future growth," said John Majewski, President of JSM.
A premier BHS designer of Checked Baggage Inspection Systems (CBIS) both domestic and abroad JSM:

An experienced Owner's Authorized Representative fiercely advocating on behalf of our clients
TSA Testing Experts / TSA PGDS Expertise
Individual carrier systems (ICS) Technology Experience
A trusted BHS & PBB, Operations and Maintenance provider
The consummate BHS consultant – doing the right thing for our clients
JSM – Designed For The Future, Maintained For Performance
To learn more, visit https://www.jsmandassociates.com