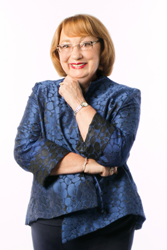 "It can't be just six months of talk and coaching. There has to be a relationship with someone who can intervene and help them find opportunities they weren't aware of," said Ms. McGee
PORTLAND, Ore. (PRWEB) November 26, 2019
InvestmentNews has recognized Judith McGee as a 2019 Women to Watch honoree. As one of the 20 prestigious winners, Ms. McGee was chosen from several hundred nominations for her leadership, contributions and impact in the financial advice industry.
"It can't be just six months of talk and coaching. There has to be a relationship with someone who can intervene and help them find opportunities they weren't aware of," said Ms. McGee
Each of the advisers and executives who made the fifth annual InvestmentNews Women to Watch list were chosen from a rigorous selection process designed to identify women who possess leadership skills, the ability to effect change in the industry, a willingness to share their expertise with other women, and are committed to giving back to the community.
"Our 2019 honorees are inspirational leaders in the financial advice industry," said Frederick Gabriel, editorial director of InvestmentNews. "Their stories show the next generation that women do have thriving careers in financial advice and at companies that support the business."
Judith McGee will publicly receive her award at the fifth annual InvestmentNews Women to Watch Luncheon on March 12, 2020, at the Ziegfeld Ballroom in New York City.
To learn more about Judith McGee, the 2019 winners, awards and the luncheon, please go to Investmentnews.com/2019women.
Disclosures:
InvestmentNews Women to Watch Submissions were accepted and reviewed based on the following criteria: demonstration of success and leadership, power to effect change, willingness to share expertise and community service. Several hundred were nominate by their firms and the top 20 selected by the InvestmentNews staff. The ranking may not be representative of any one client's experience, and is not indicative of advisor's future performance. Neither Raymond James nor any of its Financial Advisors pay a fee in exchange for this award/rating. InvestmentNews is not affiliated with Raymond James.
Securities offered through Raymond James Financial Services, Inc., member FINRA/SIPC. Investment advisory services offered through McGee Wealth Management, Inc. McGee Wealth Management, Inc. is not a registered broker/dealer, and is independent of Raymond James Financial Services.