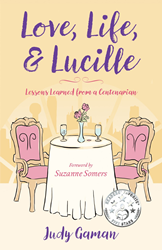 "Part memoir, part tribute . . . Alternately witty and touching," reported Kirkus Reviews.
SOUTHLAKE, Texas (PRWEB) July 08, 2020
Judy Gaman, the CEO of Executive Medicine of Texas, was working on a pat book entitled Age to Perfection: How to Thrive to 100, Happy, Healthy, and Wise when she met Lucille Fleming. What started as an interview for the book blossomed into an incredible friendship, the kind movies are made about. Suzanne Somers wrote the forward to Love, Life, and Lucille after doing an event with the two of them in Texas. "Lucille sure loved Suzanne and I believe the feeling was mutual," says Gaman.
Before it even hit the shelves, the book was pulling in rave reviews. "Part memoir, part tribute . . . Alternately witty and touching," reported Kirkus Reviews. Marybeth Conley, anchor for WREG-TV Channel 3's Live at 9 and host of KWAM990's The Marybeth Conley Show enthusiastically reported, "Grab a tissue and strap in! This emotionally charged memoir will have you busting out laughing one minute and crying the next. Judy paints the picture masterfully and leaves the reader forever touched by Lucille's wisdom. My listeners still talk about how charming Lucille was, even years after my interviewing her!"
Published by She Writes Press in April, the book climbed to the Amazon Best-Seller list in three different categories within days. Gaman said the book took much longer to bring to print than she anticipated, "Early on I was concerned about the delay in finding a publisher and getting the story into the hands of readers, but patience came with a great reward. Not only did it make it's way to the right publisher, the timing of the message could not have been better. The letters and emails from readers keep pouring in. It turned out to be the right book at the right time."
Gaman who was faced with a garage full of books intended for planned event that were cancelled due to the pandemic made the best of it. She delivered many of them along with hand written letters to those who were sheltering alone. "That's what Lucille would have wanted," she said. "Besides, she was an avid letter writer, so I did it in her honor."
About the Author: Judy Gaman is an award-winning author, speaker, and the CEO of Executive Medicine of Texas. She's also host of the popular Stay Young America! podcast. In celebration of the release of Love, Life, and Lucille, she's offering a FREE download of Age to Perfection, the book that led to the chance meeting that changed her life forever.