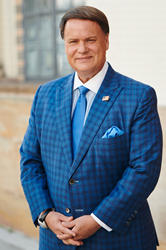 "I start my day at 5am by coming to office. This way I am making sure that I am working hard while the competition is still sleeping."
PALM BEACH, Fla. (PRWEB) August 03, 2020
Industry Era is one of the leading media brand offering technology-based magazines about the latest occurrences in various verticals. It is a source of the latest news, inspiration, and motivation for the world's most pre-eminent organizations, steadfast leaders, solution provider, and budding entrepreneurs. Julio Gonzalez received the award for his hard work, devotion towards his employees, and carrying out a culture that brings them happiness and rewards them.
"I start my day at 5am by coming to the office. This way I am making sure that I am working hard while the competition is still sleeping," said Julio Gonzalez.
We are thankful to the team and everyone that contributed to this achievement.
Julio Gonzalez is a leader in the specialty tax community and has earned the respect of his peers due to his extensive optimizing knowledge. He is an in-demand speaker who appears at national industry conferences and community events. Gonzalez is a regular guest on news networks where he is brought on as an expert for tax reform and tax sophistication for wealth preservation.
About Engineered Tax Services, Inc.
Engineered Tax Services, Inc., (ETS) is a licensed engineering firm that focuses on federal, state, and local tax benefits. Founder and CEO, Julio Gonzalez, is an expert in tax reform whose strong presence is helping define our current tax laws. Under Gonzalez's guidance and true insight into how the industry is shaping, Engineered Tax Services is one of the largest, fastest-growing, and most innovative engineering, energy, and specialty tax credit services firm in the country. Visit us at http://www.engineeredtaxservices.com.