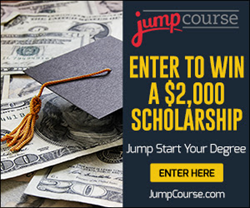 We are taking a stand to help students cut their college bills.
Las Vegas, NV (PRWEB) August 29, 2014
In addition to helping lower college debt by preparing students to earn college credit-by-exam, JumpCourse announces the "Lower Student Loan Debt Sweepstakes" for eligible students to win a $2,000 college scholarship. To learn how to enter, visit http://jumpcourse.com/sweepstakes until Friday, Oct. 24, 2014.
"At JumpCourse, we are fed up with the high cost of college and the sad stories of students who are not able to afford college," said Amy Fitzgerald, vice president of marketing for JumpCourse. "We are taking a stand to help students cut their college bills. We invite every eligible student in the United States to enter our college scholarship sweepstakes."
Inspiration for Sweepstakes
JumpCourse was inspired to create the Sweepstakes by Shanice Miller, founder of DebtFreeCollegeGrad.com. Miller graduated from University of Maryland Baltimore Dental School in 2011 without student loans and received refunds adding up to $10,000 of scholarship money from the University.
"Imagine if all students could get through college debt-free," Miller said. "Students would graduate with immense hope and would be free to pursue their dream jobs – not just survival jobs. Though I used scholarships to avoid student debt, credit-by-exam is also a great way to significantly reduce the cost of college. Testing through college courses is a great path to economic and career freedom."
According to federal data analysis by Edvisors, and published in the Wall Street Journal, the class of 2014 graduated with an average student loan debt of about $33,000. Recent Department of Education (DOE) statistics show less than 40 percent of students graduate from all colleges and universities in four years. Each additional year of study from a public college or university adds an average of $14,300 for undergraduate tuition, room, and board, according the DOE.
Online Courses Lead to College Credit Through CLEP and AP
JumpCourse offers students affordable online college prep courses for earning college credit-by-exam to save time and money. Nationally, over 95 percent of colleges and universities accept credit-by-exam, primarily CLEP (College Level Exam Program) and AP (Advanced Placement). The College Board administers the tests. It is same non-profit organization responsible for SAT and PSAT tests. In lieu of paying the national average of over $1,200 for a college class and textbook, students can take an $80 test and earn credits. JumpCourse provides a search tool to find which schools accept tests for credit.
Students can prepare for credit-by-exam from JumpCourse's professionally produced online materials that adjust to their pace of learning. Coaches encourage and monitor students, and course information is delivered via videos, eBooks, lecture notes, and interactive quizzes.
Once students complete their course, they register through the College Board for their CLEP test at a convenient location. Students learn their test score immediately after completion. Tests typically have 90 questions and most colleges will give credit for scores between 50-60 correct points out of 80 possible points. The College Board will provide test scores to schools and most colleges will accept test results for up to five years from the test date.
For more information, visit JumpCourse.com.
About JumpCourse
With the rising cost of education, JumpCourse was designed to help students save money and graduate in four years by earning college credit at thousands of colleges and universities nationwide. Online interactive college courses prepare students to earn college-by-examination credits after taking CLEP, AP and DSST tests. Recognized by the Bill and Melinda Gates Foundation for Adaptive Learning, recipient of four prestigious Telly Awards for superior video content, and a finalist for the Robin Hood College Success Prize, JumpCourse delivers professionally designed motivating courses that give students another path to graduating from college on time and with lower college debt. For more information, visit JumpCourse.com.