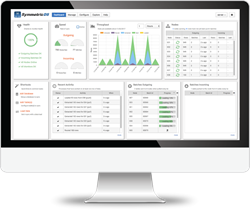 Building on our strength of flexibility, we've extended our architecture to include log-based data replication.
COLUMBUS, Ohio (PRWEB) November 21, 2019
JumpMind, a leading provider of data integration software, announces the availability of SymmetricDS Pro version 3.11, database replication software with cross-platform support for more than 20 databases. This release includes log-based data replication for Oracle, adds SAP HANA as a source or target, and improves the performance of subsetting large data sets.
Oracle users can now choose between log-based or trigger-based capture of data. Log-based data replication can be beneficial for reducing overhead by processing the logs asynchronously outside of the database in a continuous mode. With either option, the same powerful set of features are available, including vertical and horizontal subsetting, filtering, conflict management, and data transformation. "Building on our strength of flexibility, we've extended our architecture to include log-based data replication, which will benefit our users with batch-oriented, high throughput requirements," said Eric Long, Vice President of Solutions.
SymmetricDS expands its support of cloud-based, analytical databases with the addition of the SAP HANA database. Data can be securely replicated across on-premise, hybrid cloud, and multi-cloud environments to propagate changes into HANA or receive changes from it. Consolidate data in real-time from multiple sources into HANA and leverage its fast analytics, OLAP, and OLTP operations. SymmetricDS enables continuous data replication with features like guaranteed data delivery, filtered synchronization, and wide area network optimization.
Subsetting data to groups of databases now gains performance from common batches that are shared by multiple targets. Common batches were previously used when routing to all targets, but now any arbitrary group is supported, such as databases by region, district, or business unit. When changes are routed to databases across thousands of locations, the reduction in replication time can be dramatic. "We help customers scale out to thousands of databases. As the complexity of slicing and dicing data has increased, we've enhanced common batches to handle that load," said Long.
About JumpMind
JumpMind is an open source software company specializing in data integration and database replication software for the enterprise. We help companies build integration solutions that combine data from disparate sources into meaningful and valuable information. Our mission is to build software that is effective, open, and easy to use. We provide consulting, training, and support for our software products. See how JumpMind solves data integration by visiting http://www.JumpMind.com.