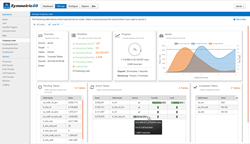 We wanted the user to have a good first impression with a fast data load that's easy to track.
COLUMBUS, Ohio (PRWEB) May 10, 2019
JumpMind, a leading provider of data integration software, announced today the availability of SymmetricDS Pro version 3.10, an enterprise data replication server with cross-platform compatibility between popular database platforms. This release improves the speed and usability of the initial data load, adds enhanced conflict resolution, and includes support for the Snowflake data warehouse.
"A cross-platform initial data load is the first step for replication," said Josh Hicks, Head of Sales Engineering, "and we wanted the user to have a good first impression with a fast data load that's easy to track." A new Outgoing Loads screen in the web console shows statistics and visualized progress of the data load, which refreshes in near real-time. Tables are listed across pending, active, and completed panels as their status changes. Active tables show progress bars for extract, transfer, and load phases. At a glance, a time series chart shows performance of the load over time, while a pie chart shows overall completion and estimated time remaining. "I'm always asked about how long a load is going to take, so we built those same calculations into the screen to make it accessible to everyone," said Hicks.
The speed of the initial data load was also improved, with the extraction and bulk load sub-systems receiving performance improvements. The extraction queries were optimized to return data quicker, with data formatting done in parallel at the server process. Oracle and Tibero database dialects received new bulk loader support based on their native SQL*Loader and tbLoader bulk loading tools respectively. Extracting large object (LOB) data now automatically uses two passes to quickly extract small objects followed by larger ones. Hicks said, "On projects, we've learned to disable or remove constraints on the target database for the fastest possible load of these large databases, so we went ahead and made that into an automatic feature to benefit all customers."
Change data capture was also enhanced to automatically resolve constraint violations caused by conflicts. Complex chaining of exceptions are handled during data loading to bring the target database into sync with its source, including exceptions with primary key, unique key, and foreign key violations. "Our design approach has always been to automatically recover from errors, so we enhanced data loading to reach out for missing data or remove blocking rows in order to bring two databases into sync," said Hicks.
This release includes support for replication into the Snowflake database, a data warehouse gaining popularity for its cloud-based data storage and analytics. With the initial data load followed by change data capture from a relational database, SymmetricDS can target data into Snowflake and keep it updated with changes. Bulk loading integrates with Snowflake's internal storage, Amazon's S3, or Azure to quickly populate the data warehouse.
JumpMind offers a free, trial download of SymmetricDS Pro to evaluate the data replication software within a test environment. An affordable proof of concept project is also available, which includes consulting and support from product experts to demonstrate a working solution.
About JumpMind
JumpMind is a software company specializing in data integration and database replication software for the enterprise. We help companies build integration solutions that combine data from disparate sources into meaningful and valuable information. Our mission is to build software that is effective, open, and easy to use. We provide support, consulting, and training for our software products. To see all of JumpMind's data integration solutions, visit the http://www.JumpMind.com website or contact JumpMind to schedule a software demonstration.