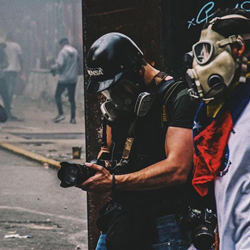 "Our programmers selected the film for its intense and shocking content," shared Jaie Laplante, Executive Director & Director of Programming of Miami Film Festival. "We feel that 'Where Chaos Reigns' is an effective and succinct reminder of the humanitarian crisis in Venezuela."
NEW YORK (PRWEB) February 01, 2019
The Miami International Film Festival (MIFF) yesterday announced the official slate for its 36th annual lineup. Included in the HBO Ibero-American Short Film Awards lineup is New York Film Academy (NYFA) alum, filmmaker, and Venezuelan fugitive photojournalist Braulio Jatar's documentary film, "Where Chaos Reigns," co-directed by fellow NYFA alum Anais Michel.
"The Miami Film Festival not only has a longstanding international reputation, it is one of the best -- if not the best -- platforms for Latin American films and filmmakers in the world," says NYFA Festivals Liaison, Crickett Rumley. "Getting into Miami is a tremendous achievement for Braulio and Anais."
Currently, Venezuela is going through an unprecedented political, economic, and humanitarian crisis. With a capture order on Braulio's head, returning to his country is extremely dangerous after having previously fled. However, when the President announced he would be closing the National Assembly and rewriting the constitution, the Venezuelan people hit the streets en masse, and Braulio snuck in to document and give voice to the resistance through "Where Chaos Reigns."
"Our programmers selected the film for its intense and shocking content," shared Jaie Laplante, Executive Director & Director of Programming of Miami Film Festival. "We feel that 'Where Chaos Reigns' is an effective and succinct reminder of the humanitarian crisis in Venezuela."
"Where Chaos Reigns" chronicles the Venezuelan people as they take to the streets to protest, focusing on Daniella, a young medical student who has rounded up her peers and created a paramedic group called "Green Crosses" in an effort to help those injured in the clashes. The film follows her into the inevitable chaos that ensues.
During a leave of absence from his studies in the 1-Year Documentary Filmmaking Program at the New York Film Academy (NYFA), Braulio essentially resumed his role as a social media war photographer complete with gas mask and bulletproof vest, capturing surreal footage of government brutality as the country slid toward dictatorship, posting it on Instagram and the webpage his father created a few years earlier when their President, Nicolás Maduro, first began closing critical media outlets.
While he has only been making narrative films since his arrival at NYFA, Braulio says, "I have been documenting my country's difficulties for many years now. I have seen how year after year conditions only worsen, how people's hope slowly fades away, how families are ripped apart, how mothers mourn their sons and how children grow in a place that no longer resembles the beautiful country I grew up in. This film, for me, documents the final push Venezuelans gave to change their future, to rid themselves of this oppressive government and yet once again they were met with pain and death. It is the last breath of a country and that is what I hope people will feel when they watch it."
A new round of mayhem broke out in Venezuela just last week when the country's opposition leader and self-proclaimed President, Juan Guaidó, called for new street demonstrations as pressure intensified on President Maduro and the crisis-stricken OPEC nation. With the crisis intensifying and awareness spreading across the world, "Where Chaos Reigns" is a powerful illustration of the turmoil and serves as a striking reminder of just how heartbreaking it is.
About New York Film Academy
The New York Film Academy (NYFA) is a leading visual and performing arts school that offers courses across 15 areas of study in New York City, Los Angeles, South Beach/Miami, Gold Coast (Australia), Florence (Italy), and more. Thousands of aspiring artists come to study at the New York Film Academy each year from over 120 countries. For more information, please visit http://www.nyfa.edu.
About Miami Film Festival
Celebrating cinema in its 36th annual edition March 1 – 10, 2019, Miami Dade College's Miami Film Festival is considered the preeminent film festival for showcasing Ibero-American cinema in the U.S., and a major launch pad for all international and documentary cinema. The annual festival boasts more than 60,000 audience members and more than 400 filmmakers, producers, talent and industry professionals. It is the only major festival housed within a college or university. In the last five years, the festival has screened films from more than 60 countries, including 300 World, International, North American, U.S. and East Coast Premieres. Miami Film Festival's special focus on Ibero-American cinema has made it a natural gateway for the discovery of new talent from this diverse territory. The festival also offers unparalleled educational opportunities to film students and the community at large. For more information, visit miamifilmfestival.com or call 305-237-FILM (3456).