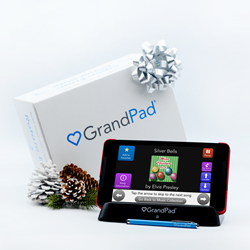 Families will be looking for a reliable way to celebrate the holidays safely and to make sure older loved ones are healthy and happy. With the expanded availability of Zoom on GrandPad for Consumer Cellular, this can be a reality.
MINNEAPOLIS (PRWEB) November 17, 2021
The number of older adults who say they feel isolated has more than doubled since 2018, and for many, those feelings of loneliness increase during the holidays. Studies show that video calling can decrease these feelings of loneliness among seniors, which is why GrandPad and Consumer Cellular announced that they will make the Zoom app, which enables multi-party video calls, available to all customers who purchase GrandPad through Consumer Cellular.
The GrandPad purpose-built tablet for people over the age of 75 became a crucial connection for seniors, family members, friends, and caregivers since the onset of COVID-19. The specially designed tablet was designed with a proprietary, one-to-one video calling app, but the platform was expanded to include group calls through installing the Zoom app in 2020, allowing entire families to stay connected during the pandemic. While this feature was initially available only to customers who purchased direct through GrandPad, it is now also available to all customers who purchase a GrandPad subscription through Consumer Cellular.
The GrandPad tablet was designed specifically to accommodate the physical and cognitive capabilities of elderly seniors. It is currently being used to connect more than 1.3 million people — including seniors, family members, friends, and caregivers — in more than 120 countries worldwide. GrandPad has been available for sale through Consumer Cellular since 2018.
"The inclusion of Zoom for Consumer Cellular customers will allow seniors across the country to enjoy the next best thing to being in person," said Julie Ament Gran, chief growth officer, GrandPad. "Whether it's a simple 'good morning' video chat, singing holiday songs together, or sharing a meal with family near and far, seniors must not be left behind during the busy holiday season. Once again, families will be looking for a reliable way to celebrate the holidays safely and to make sure older loved ones are healthy and happy. With the expanded availability of Zoom on GrandPad for Consumer Cellular, this can be a reality."
According to Ament Gran, more than 1.8 million video calls were conducted on GrandPad in the fourth quarter of 2020, alone. Meanwhile, video calling through the Zoom app and through the original GrandPad video calling app are among the top-used features of the GrandPad tablet. Nearly 40,000 GrandPads are currently contracted through Consumer Cellular.
"We are proud to offer the GrandPad tablet to our customers as a way to safely and easily stay connected with elderly loved ones," said Ed Evans, CEO, Consumer Cellular. "We understand the importance of technology that fits an individual's needs and interests, and when it comes to seniors, GrandPad is the perfect fit. The availability of Zoom on GrandPad for our customers will relieve the stress and uncertainty of continued COVID visiting restrictions and allow families to continue cherished traditions."
The Zoom app will be added as a software update for all existing Consumer Cellular GrandPad users, and will come pre-installed on new purchases, effective immediately.
"It is profoundly rewarding for our team to see and hear about the impact the Zoom platform is having on people around the world," said Ron Emerson, global healthcare lead, Zoom. "The growth in technology adoption by seniors is a good thing, but when that technology will keep them safely connected and engaged and it's designed specifically for their needs, that goes beyond good, to great."
To learn more about purchasing a GrandPad subscription, visit GrandPad.net or ConsumerCellular.com.
About the purpose-built GrandPad tablet
GrandPad offers the following features that can help seniors and families stay connected in a safe and simple way:

Ready to use, right out of the box — no setup required
Enables pre-loaded "trusted circle" of family contacts, photos, and apps
Built-in LTE (no home WIFI needed)
Closed network for greater security (no one outside the "trusted circle" can contact a GrandPad user)
Secure internet browsing
Video and voice calling
Texting and emailing
Family photo and video sharing
Curated entertainment content (music and TV) and brain games
Streaming radio
Ergonomic design and enhanced speakers and camera
24-hour personal support
###
About GrandPad
Based in Minneapolis, GrandPad is a digital health company that develops engagement solutions to improve the health and well-being of older adults by reconnecting them to families, friends, and caregivers through technology that is safe, reliable, and easy to use. The GrandPad purpose-built tablet for people over the age of 75 -- the first mobile device of its kind -- addresses usability, security, and connectivity issues that are often roadblocks for integrating remote monitoring and telehealth into professional and familial caregiving settings. The company's secure cloud platform with built-in LTE and web applications allows care teams and family members to engage remotely with older adults without depending on WIFI connectivity. GrandPad enables a variety of interactions, including video calls, sharing essential care-related emails and messages, and conducting multi-party video care conferences between family members and a patient's continuum of caregivers. For professional caregivers, GrandPad offers connected device capabilities that support enhanced telehealth and remote monitoring services provided by a growing number of in-home healthcare organizations. To learn more, visit GrandPad.net or connect with us on LinkedIn, Facebook, and Twitter @GrandPad_social.
Media contact: Barbara Tabor, APR 651.230.9192 barbara@taborpr.com
About Consumer Cellular
Consumer Cellular is a top-rated wireless carrier that provides no-contract cell phones and service plans primarily to those 50+. The company has been an approved AARP Provider for over 12 years and offers AARP members special discounts on service. Founded 25 years ago on the belief that everyone should have affordable access to the safety and convenience of cellular service, Consumer Cellular is privately held with 2000 employees. The Portland, Ore.-based company utilizes the nation's largest voice and data networks, which covers 99 percent of the U.S. population. Consumer Cellular's wireless phones and plans are sold nationwide at leading retailers such as Target, as well as directly to consumers at ConsumerCellular.com or (888) 345-5509. The company has been ranked on the Inc. 5000 list for 11 years in a row. For J.D. Power 2021 award information, visit jdpower.com/awards. For cellphone tutorials, features, applications and company news, connect with Consumer Cellular on Facebook, Twitter and YouTube.
Media contact: Angie Galimanis 503.799.8091 angie@lawrence-pr.com