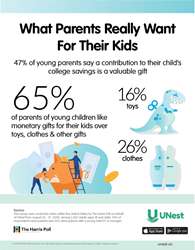 UNest has made gift-giving easier and more meaningful with the addition of gifting to its award-winning UNest Investment Account for Kids.
NORTH HOLLYWOOD, Calif. (PRWEB) December 16, 2020
UNest, the first-of-its-kind mobile app that helps parents invest in their children's future financial wellness, has made gift-giving easier and more meaningful with the addition of gifting to its award-winning UNest Investment Account for Kids.
Family members and friends can now contribute directly to a child's UNest Investment Account for Kids by simply clicking the personal gifting link shared by the child's parents and picking the dollar amount they would like to send. The monetary gift is directly added to a UNest account to help parents build for their child's future. The UNest Investment Account for Kids provides a tax-advantaged and flexible approach to saving and investing for minors. The custodial accounts offered by UNest avoid the restrictions of 529 plans -- the funds saved can be used for any life event including education, first car, accommodation, or a wedding.
Between the economic pressures posed by the pandemic, and the restrictions on travel and group gatherings, UNest's gifting solution enables family and friends to give a gift that meaningfully contributes to a child's future even if they cannot be in person together for the holidays.
Parents are also looking for more practical and longer-lasting gifts than toys that won't get used and clothes that won't get worn. This was validated by a recent survey completed by UNest and Harris Poll in which the parents of young children responded positively about receiving monetary gifts for their children rather than toys, clothes, and other gifts. Nearly half (47%) of parents with young children say a contribution to their child's college savings account is a valuable gift from family members and friends. The desired financial gifts that parents value include cash/gift cards (65%) or financial investments (i.e., contribution to college savings account & stock or other investments (61%).
"As a young mom of two kids I was amazed at just how many unused or unloved toys and clothes we accumulated," said Mimi Chan, head of experience at UNest. "At UNest we have also heard from family after family that they would love to have an easy way for family members and friends to contribute to their kid's savings account. Based on our personal experience and feedback from our users we created a gifting solution that makes it simple to collect, track, and manage funds. With so many families forced to stay apart this holiday season, it's the perfect way to counter travel and lifestyle restrictions and build a better future for kids."
"I'm a big believer that giving your child a solid financial future is more important and valuable than the material things we get rewarded for in the moment," said Baron Davis, NBA All-Star and UNest investor. "During these challenging times, investing in our kids' future is more important than ever. I'm proud to support UNest in its mission to make it simple and affordable for parents."
In addition to adding gifts to their child's UNest Investment Account for Kids, parents can earn additional funds that will be deposited directly into their account by referring friends and interacting with UNest reward partners including Disney+, DoorDash, Old Navy, and Liberty Mutual.
UNest was created by parents for parents to help families save effectively for their children's future. The UNest Investment Account for Kids is accessed and managed through its highly popular iOS and Android apps. The solution has enjoyed rapidly escalating levels of success since launching in early 2020. Tens of thousands of families have established accounts with UNest with the goal of savings for important milestones in their children's life.
About UNest
UNest's fintech app helps parents save and invest in their children's future. The company's iOS and Android apps and Investment Account for Kids have achieved an outstanding level of success since becoming widely available across the United States in February 2020. UNest demystifies the previously complex process of setting up saving plans for education and other important life stages with a paperless approach that takes only five minutes to set up. UNest's team has decades of experience as certified financial advisors, technologists, and entrepreneurs at financial industry leaders including Capital Group, Marqeta, Union Bank, and Acorns. UNest is a fully accredited and registered financial advisor regulated by the SEC.
Learn more at http://www.unest.co
UNest's Android app is available for download here; iOS app is available here.