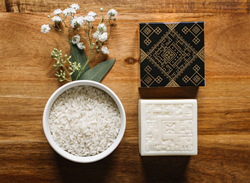 We noticed the amazing effects naturally grown Longsheng rice water had on their skin from hand-rinsing their rice for meals and using the rice water to wash their hair. So, we used that same Longsheng rice to make premium, all-natural Viori body wash bars that cleanse and moisturize your skin
PROVO, Utah (PRWEB) November 11, 2021
Viori's new body wash bars are made from the same Longsheng rice water found in Viori haircare bars which are inspired by the ancient rituals of the Red Yao Tribe in Longsheng, China. Viori works directly with the Red Yao to purchase their ancient rice at a premium to create a long-term sustainable partnership.
Viori Body Wash Bars are 100% natural, vegan, sulfate-free, paraben-free, cruelty-free, and plastic-free.
"Several years ago we had the pleasure of meeting the women of the Red Yao tribe in Longsheng, China," said Himmie Lau, Executive Marketing Director of Viori. "We noticed the amazing effects naturally grown Longsheng rice water had on their skin from hand-rinsing their rice for daily meals and using the rice water to wash their hair. So, we used that same Longsheng rice to make premium, all-natural Viori body wash bars that cleanse and moisturize your skin."
Viori body wash bars offer the same soothing, cleansing, refreshing effects on skin as Viori shampoo bars have on hair.
Viori offers scented or unscented body wash bars:

Serenity: A sweet, natural aloe fragrance that incapsulates the clean, fresh air only found on the serene peaks of the Longsheng mountain ranges.
Native Essence: The Red Yao tribe has been naturally cultivating Longsheng Rice high upon the rice-terraced mountains of Longsheng for over 2,000 years. In the spirit of that raw, natural simplicity, the unscented Natural Essence conditioner bar has no added fragrance.
To order the new Viori Body Wash Bars and other Viori products visit https://viori.com/
About Viori: Viori has partnered with the Red Yao on projects they believe will help their communities thrive. Viori works with the Red Yao directly to initiate projects to bring about economic prosperity, ecological harmony, cultural preservation, and community wellbeing for their tribe. To learn more about Viori's mission click here.