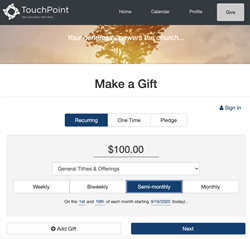 Congregants are donating to their houses of worship, not to software companies, and we believe their generosity should be honored by ensuring that all contributions land where they're intended.
DALLAS (PRWEB) October 28, 2020
Churches are enjoying a powerful new tool: a freshly updated and enhanced online giving platform in TouchPoint, the church management system (ChMS) from the company of the same name. For congregations already using TouchPoint for their ChMS, the platform adds welcome functionality and an opportunity to keep a higher percentage of the donations that parishioners earmark for their church communities. That's because fees levied by other giving platforms, as well as payment processors, take a portion of donations, leaving churches only a fraction of the amounts given.
But funding for churches and churches alone provided the inspiration for the platform's robust makeover. "Where other giving platforms add to the fees charged by payment processors, ours doesn't," says Chris Dolan, vice president of product and strategy at TouchPoint.
"We wanted to build a system that, above all, supports churches and their mission," continues Dolan, the architect behind the new feature. "Congregants are donating to their houses of worship, not to software companies, and we believe their generosity should be honored by ensuring that all contributions land where they're intended."
TouchPoint furthers that goal with an user experience and interface that eases the giving process for clergy, laity, and congregants alike. Instead of clicking through multiple pages, donors can manage their gifts on just one page, where they can decide donation amounts and frequency, as well as see pledge commitments. The Level 4 PCI-compliant system also automatically recognizes credit card types and securely stores past payment information.
Church leaders and administrators enjoy such benefits as a customizable interface that allows them to give the donation page a look and feel that matches their church's branding. They can also choose to have the page default to recurring donations to extend congregants' generosity, which churches can further encourage by giving donors the option to cover all transaction fees. Funds can also be given end dates to motivate goal-oriented donors, while built-in email templates, which can be styled with each church's branding, help resource-strapped teams pressed for time.
These updates to TouchPoint arrive just in time. After experiencing a 65 percent drop in giving as Covid-19 hit in the spring, churches are now seeing a rebound, according to this year's State of the Plate survey. That's good news because more than 30 percent of all faith-based giving occurs in the last three months of the year, with 17 percent taking place in December, reports Open Network.
TouchPoint's giving platform will help churches gain lost ground at a time when they're still getting back on their feet. Although many have reopened, 58 percent of churches that responded to the State of the Plate survey say that attendance is at half or less than pre-pandemic levels. TouchPoint's giving platform, which fully integrates with its bespoke mobile app, facilitates charitable giving from congregants who may be used to tithing at in-person services. Indeed, when churches make tithing available online, they tend to see donations increase overall by 32 percent, reports Nonprofits Source. With TouchPoint's giving platform, that revenue is more meaningful because a higher percentage of the donation amount is actually funneled to churches, not SaaS businesses or payment processors.
To schedule a demo of the TouchPoint platform and its powerful giving platform, please email brian.bishop@touchpointsoftware.com.
About TouchPoint
TouchPoint is a powerful, cloud-based church management system that equips leaders to grow fully devoted followers of Christ. TouchPoint is designed for midsize to large churches looking for a ChMS solution that's ready to use and customizable. Its best-in-class, fully integrated mobile app helps users with contact records, membership management, volunteer management, child check-in, discipleship groups, ministry engagement, contributions, events, media, and more.