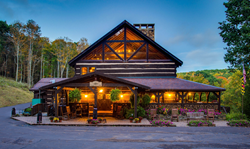 I am very pleased to have listed this incredibly unique opportunity. There is a strong model in place, a 20-year history of repeat business, as well as prospective growth on the horizon for future creative minds to shape the lodge into their own success," said Crawford
MCHENRY, Md. (PRWEB) March 12, 2020
Taylor-Made Deep Creek Vacations & Sales is pleased to announce their recent listing 1600 Mount Aetna Road, also known as Savage River Lodge.
Represented by sales agent Terah Crawford, this unparalleled property is situated on 43 private acres surrounded by 700 acres of Savage River State Forest. Savage River Lodge is a nationally recognized destination. There are 18 charming cabins, 8 unique yurts, a picturesque 3-bedroom residence and a stunning 10,000 square foot lodge with a spacious dining room well-known for gourmet American cuisine.
"I am very pleased to have listed this incredibly unique opportunity. There is a strong model in place, a 20-year history of repeat business, as well as prospective growth on the horizon for future creative minds to shape the lodge into their own success," said Crawford
Operated since 1997 by husband and wife team Jan Russell and Mike Dreisbach, Savage River Lodge has welcomed thousands of guests and built an unmistakable brand. Among other titles and accolades, they have been awarded Maryland's "Finest Spa & Couple's Getaway", "Finest Dessert" and "Finest Fine Dining".
"It's time for the next chapter in our lives. To look ahead toward the next twenty years and beyond, we're excited to announce the Savage River Lodge is listed for sale. We'll turn 70 this year, and after operating the business nearly seven days a week for more than two decades, it's time for us to start thinking about retirement," stated Russell.
Committed to sustainability, the owners installed 325 solar panels behind the main Lodge building. The panels provide 65% of the Lodge's electricity and create 84 Solar Renewable Energy Credits (SRECS) each year.
The Lodge is the only venue in Maryland endorsed by Trout Unlimited. Savage River Lodge is nestled between four trophy rivers. Through a cooperative agreement with the State of Maryland, the Lodge maintains 14 miles of trails throughout their property and the Savage River State Forest. The diverse loop trails offer hours of enjoyment and natural scenery at its finest.
The sellers welcome potential purchasers to tour the lodge, to meet them and understand existing brand standards. Interested parties can contact Terah Crawford at Taylor-Made Deep Creek Vacations & Sales to discuss this opportunity and take the next steps.
About Taylor-Made Deep Creek Vacations & Sales
Taylor-Made Deep Creek Vacations & Sales is a leader in Deep Creek Lake vacation rentals, real estate and property services. Taylor-Made rental homes and sales listings are conveniently located within a few hour's drive from Pittsburgh, Baltimore, and Washington, DC.