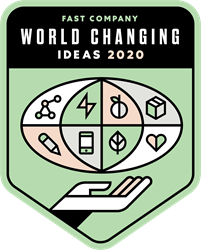 SAN ANTONIO (PRWEB) April 28, 2020
Justice For Me (JFM), whose purpose is to close the Justice Gap, has announced another accolade, this time from Fast Company's 2020 World Changing Ideas Awards. Justice For Me was a finalist in the social justice category of the awards. Fast Company's World Changing Ideas Awards honor the businesses, policies, projects and concepts that are actively engaged and deeply committed to flattening the curve when it comes to social injustice or economic inequality.
"We are honored to accept this award from Fast Company," said Joseph Cooper, CEO and co-founder of Justice For Me. "What is most important to us is the positive impact we have on our clients' lives. We look forward to expanding in 2020 and helping more people across the United States."
JFM removes the financial obstacles that prevent clients and attorneys from connecting, which include:

Many people cannot afford or would prefer not to pay an upfront retainer.
Most people don't know where to turn to find the right attorney to help them.
Attorneys turn away up to 30% of potential clients because they are unable to offer payment terms.
In addition, attorneys want to focus on working with clients and not chasing billing or bad debt issues. Justice For Me solves all these challenges by offering affordable loans for legal cases with interest-free options. Customers pay no upfront cash or retainer but instead have reasonable monthly payments. Attorneys can accept and retain more clients, get paid faster and avoid collection hassles.
Justice For Me has previously been nominated for the American Bar Association's Louis M Brown Award for projects that advance access to legal services.
Now in its fourth year, the World Changing Ideas Awards showcase 26 winners, more than 200 finalists, and more than 500 honorable mentions—with Health and Wellness, Corporate Social Responsibility, and AI and Data among the most popular categories. A panel of eminent judges selected winners and finalists from a pool of more than 3,000 entries across transportation, education, social justice, politics, technology and more.
About the World Changing Ideas Awards: World Changing Ideas is one of Fast Company's major annual awards programs and is focused on social good, seeking to elevate finished products and brave concepts that make the world better. A panel of judges from across sectors chooses winners, finalists and honorable mentions based on feasibility and the potential for impact. With a goal of awarding ingenuity and fostering innovation, Fast Company draws attention to ideas with great potential and helps them expand their reach to inspire more people to start working on solving the problems that affect us all.
About the Justice Gap: Justice should be available to everyone, but it often is not due to the structure of the American justice system. In criminal cases, legal assistance is a right guaranteed by government, when someone cannot afford an attorney. However, there is no right to counsel in civil matters. That often means coming up with large upfront retainer many cannot afford. For some, that inability to pay upfront can mean going without representation. Justice For Me aims to bridge that gap in the legal system by allowing clients to pay in installments via monthly payments.
About Justice For Me: Justice for Me removes the financial obstacles that prevent clients and attorneys from connecting, by using technology and a network of lawyers and financial partners that work with clients who cannot afford traditional legal representation. The company pays attorney's bills directly, typically within 72 hours, and provides clients with 18-month payment terms, with an interest-free option. For more information, go to http://www.justiceforme.com