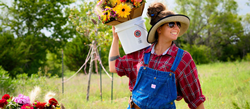 FORT WORTH, Texas (PRWEB) February 14, 2023
B. Blumen Flower Farm is a locally grown flower farm that uses only environmentally friendly techniques to grow unique flowers for farmers markets, events and weddings.
Robin Blood grew up in rural Texas watching her German mother, an avid home-gardener, work the soil with amazing success. She spent her youth learning the trade of her mother's talent and found herself in awe of the beauty of the outdoors, specifically drawn to flowers and plants. It was during those times that she recalls inheriting her nickname "Blumen," which is German for flower.
Her passion for flowers was reignited after visiting a nursery in Corpus Christi, Texas in 2019. This experience reminded her of her roots and she began to research and ultimately begin the process of starting her own floral business. With a little piece of land, a dream and the support of her fiance, she took a leap of faith. The groundbreaking for the appropriately named B. Blumen Flower Farm began in August of 2020, and has been successfully opened for business in Godley, Texas since April 1, 2021.
Robin and her fiance have prioritized soil sustainability and microbiological health above all by using a "No Till" farming method that utilizes a hand held broad fork rather than a tractor to aerate. This technique disrupts the soil and microbiome as minimally as possible.
"The goal at the farm is to create an environment for nature to express itself as it was meant to be," said Robin Blood, owner of B. Blumen Flower Farm. "We believe that the protection of soil's microbiology is exceedingly overlooked in modern farming operations and has led to the topsoil crisis we now have in agriculture. We also pride ourselves in the fact that we don't use pesticides, insecticides or herbicides on our farm."
Their passion for sharing their knowledge and skills with their community is evident. They are committed to creating outreach opportunities by designing and hosting classes for all ages, authoring a blog, and developing instructional materials via social media. The two also partner with educational institutions in their region to help expose the next generation to the craft of sustaining agriculture and floristry by providing hands-on educational experiences in growing and farming practices. The diversity and abundance of activities and events that the B. Blumen Flower Farm created for the community is endless. Learn more about B. Blumen Flower Farm here.
Justin Boot Prints is a gathering place for people leaving their mark on the western industry. From country music superstars to agriculture students to welders, Boot Prints is where Justin Boots celebrates the heartbeat of the western lifestyle: everyday people living extraordinary lives. Follow Justin Boot Prints here.
About Justin Boots
Justin Boots is a brand of western footwear that was founded in 1879 by H.J. Justin. The company is headquartered in Fort Worth, Texas, and produces a wide range of boots for both men and women, including cowboy boots, work boots, and casual shoes. Justin Boots is known for its high-quality craftsmanship and use of premium materials, and has a reputation for being a trusted brand in the western footwear market. For more information, visit justinboots.com.
Facebook: @JustinBoots | Twitter: @JustinBoots | Instagram: @JustinBoots_