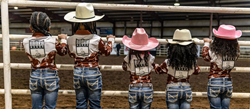 FORT SMITH, Ark. (PRWEB) March 10, 2023
30 young women gathered at the Hero's Arena in Natural Dam, Ark. on February 11 and 12, 2023 to compete in the inaugural Miss Rodeo Fort Smith pageant. Crowns, chaps, buckles and sashes lavished the grounds for the two-day competition.
Chin up. Shoulders level. Control the reins. Most importantly, smile and have a darn good time out there. Pageant contestants of the first-ever Miss Rodeo Fort Smith rehearsed for weeks leading up to the competition. A community pageant originated for local toddlers to teens, Miss Rodeo Fort Smith set the foundation for contestants to experience rodeo arena life, and for the majority of them, contact with horses. This year's winners were Queen Carissa Webster, Teen Jaydah Releford, Princess Skyla Burton, Sweetheart Stella Smith, and Little Miss Cataleya Reyes.
The Miss Rodeo Fort Smith pageant was produced by Fort Smith native Ja'Dayia Kursh, the first Black rodeo queen of Arkansas. The contemporary cowgirl started riding horses at age six and competing in rodeo pageants by age 13. She earned the crown of Miss Rodeo Coal Hill of Arkansas in 2017 and became international news by 2019. The full-time cowgirl reserves personal time to raise funds for local initiatives connected to increasing youth engagement in agriculture.
Kursh created the Miss Rodeo Fort Smith pageant to get rid of the stigmas associated with types of pageants. Kursh aimed to recast the competitive scene into a sisterhood for newer generations of contestants. One founded on friendships. One that alleviates parents and cowgirl from having to go too deep into family pockets just to participate.
"This pageant has opened up a world I never knew about or knew was possible to participate in," said Jaidyn Burrell, a 17-year-old senior. Burrell rounded out 30 contestants for the extravaganza of country western fashion, horsemanship, and the basics to owning stage presence. Each represented the historic Wild West town of Fort Smith - 14 miles, give or take, from the arena.
The city of Fort Smith pitched in to promote the event with billboards plastered around town and involvement from the Fort Smith Mayor. Fort Smith's first Black mayor and fellow native George McGill crowned each of the winners. McGill thinks the pageant helped reinforce the town's long-standing agriculture and cowhand heritage. Learn more about the 2023 Miss Rodeo Fort Smith pageant here.
Justin Boot Prints is a gathering place for people leaving their mark on the western industry. From country music superstars to agriculture students to welders, Boot Prints is where Justin Boots celebrates the heartbeat of the western lifestyle: everyday people living extraordinary lives. Follow Justin Boot Prints here.
About Justin Boots
Justin Boots is a brand of western footwear that was founded in 1879 by H.J. Justin. The company is headquartered in Fort Worth, Texas, and produces a wide range of boots for both men and women, including cowboy boots, work boots, and casual shoes. Justin Boots is known for its high-quality craftsmanship and use of premium materials, and has a reputation for being a trusted brand in the western footwear market. For more information, visit justinboots.com.
Facebook: @JustinBoots | Twitter: @JustinBoots | Instagram: @JustinBoots_