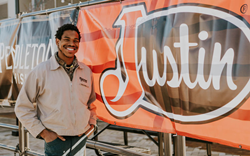 FORT WORTH, Texas (PRWEB) February 09, 2023
Isaac McFarland wears a lot of hats. He is a cattle showman, entrepreneur, and an advocate of the agricultural industry. Isaac's day job is to feed, walk, wash, exercise, and care for approximately 150 calves in the cattle operation and Vickland Show Cattle in Colorado, but he also advocates for agriculture on his social media platforms.
Born and raised on his family farm in Keithville, Louisiana, Isaac gained a lot of agricultural experience from an early age. He has spent 25 years in the agricultural lifestyle, where he produced, showed, and worked on his family's farm learning the ins and outs of the show cattle industry. His passion for agriculture originated from his father.
"My dad grew up showing cattle. God gave him a vision and he ran with it. His dream was for his children to be able to show cattle and live a very different experience," said Isaac. "I was able to have nice cattle because my dad was working hard every single day for years."
Getting involved in the show cattle industry is an excellent opportunity to build the youth of tomorrow. For today's youth who want to get involved, Isaac recommends joining FFA and 4-H. He speaks highly of the organizations, as their mission is to educate the world by fostering career development events and allowing more opportunities in the agricultural industry.
"After joining 4-H or FFA, kids and their parents have access to an agent or teacher who can walk them through purchasing their first show animal," said Isaac. "It's not about the show animals. It's about learning and being coachable." He encourages anyone interested in these organizations or showing animals to speak with an agent about the time and cost commitments.
In Isaac's free time, he can be found on social media promoting his platform, "The Official Black Farmer." His goal is to use his social media to inform the world about what a day in the life of a farmer is all about. "I'm going to push everything that's not just Black farming, but farming in general, to get the world to be more into agriculture," said Isaac. "There are very important cultural values to be learned from just being able to take care of a cow.
Justin Boot Prints is a gathering place for people leaving their mark on the western industry. From country music superstars to agriculture students to welders, Boot Prints is where Justin Boots celebrates the heartbeat of the western lifestyle: everyday people living extraordinary lives. Follow Justin Boot Prints here.
About Justin Boots
Justin Boots is a brand of western footwear that was founded in 1879 by H.J. Justin. The company is headquartered in Fort Worth, Texas, and produces a wide range of boots for both men and women, including cowboy boots, work boots, and casual shoes. Justin Boots is known for its high-quality craftsmanship and use of premium materials, and has a reputation for being a trusted brand in the western footwear market.
For more information, visit justinboots.com.
Facebook: @JustinBoots | Twitter: @JustinBoots | Instagram: @JustinBoots_