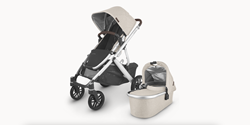 We had too much information for what the system was designed to do.
CAMPBELL, Calif. (PRWEB) September 14, 2021
UPPAbaby, a juvenile gear brand, selected Centric Software®'s Product Lifecycle Management (PLM) solution, Centric PLM™. Centric Software provides the most innovative enterprise solutions to plan, design, develop, source, and sell products such as apparel, footwear, sporting goods, furniture, home décor, personal care, food & beverage, and luxury to achieve strategic and operational digital transformation goals.
Based in Massachusetts, USA, UPPAbaby was founded in 2006 by a husband-and-wife team with backgrounds in research and development, operations, marketing, and sales. UPPAbaby produces high-quality strollers and car seats. Known for their quality, innovative and functional designs, the company grew quickly to more than 100 employees and distribution in 53 countries worldwide. Safety, comfort, and ease of use are values that they build into everything they make.
Says Emily Paine Knickerbocker, senior materials manager at UPPAbaby, "We do a lot of testing on the components in our products. We were looking for a solution to better track that, in a way that all our project managers, the quality team, and our China team could access. Something besides a shared drive, which is basically what we were using."
Faced with technical products that can have 500 – 1,000 components, their previous PLM wasn't able to handle the complexity. Avery François, project manager at UPPAbaby, says they tried numerous ways to make their previous system work for them but failed. "It pretty much broke at our most basic need, which was to be able to put in components and parts to build a BOM. We had too much information for what the system was designed to do."
After more research and careful consideration, UPPAbaby selected Centric PLM. Recognizing that their products were not easily pigeonholed into one category or another, they made sure the new PLM could accommodate. "Our product is in a unique middle ground. We do a lot with hard goods and soft goods in separate SKUs, but also in the same product. When Centric demoed the platform for the team and we saw the capability of what it could do, we were ready to move forward as a team," says François. Being able to configure Centric PLM for what they needed and not having to customize it was also key.
UPPAbaby was pleased with the training their users received, who were then able to instruct their own teams, quickly getting to the point where everyone was ready. François says, "We were all in the system in our U.S. office within a few weeks of going live. And have been using it daily with no issues." The most beneficial aspect of the platform is having everything in one place. "Before we had to go to our server, know which spreadsheet to find, possibly having to find two or three spreadsheets to get all the information we needed. And then sometimes we would have to go to someone else to get that information—where now all of it is in Centric."
Tech reports are easily accessible, workflows are streamlined, and ensure that no steps are missed. They no longer need to update multiple spreadsheets without being sure which is the latest one. Knickerbocker adds another positive aspect to overall efficiency. "It's helping us find opportunities for synergies, seeing which components we are developing separately, but don't actually need to be. We are realizing that there are certain products where we could be using the exact same component in different SKUs, but we currently are not."
Chris Groves, president, and CEO of Centric Software says, "We are delighted that UPPAbaby has chosen to partner with us. They are a modern, innovative company that puts out high-quality products for our most precious segment of the population. We are pleased to be strolling alongside as they boost their efficiency and set themselves up for future growth."
UPPAbaby (http://www.uppababy.com)
The UPPAbaby mission is to make the smartest strollers, car seats and juvenile gear available: intuitively designed, stylish and sleek, with the features and functions all parents want—plus innovations they never knew were possible. UPPAbaby is committed to providing a customer experience that is as exceptional as the company's products. Founded in 2006, UPPAbaby is based in Massachusetts, USA with products available worldwide. For more information please visit http://www.uppababy.com.