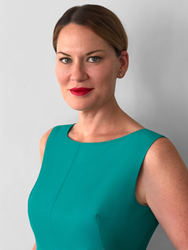 We can spend numerous hours crunching and analyzing data and perhaps everything will turn out ok, but if we have the ability to perceive and empower our employees, give them the tools they need and play to their strengths, we will be exceptional
NEW YORK (PRWEB) August 08, 2019
Today, Juvly Aesthetics announces the addition of Erin Sutley as its Chief People Officer to oversee the national strategic development and operations of its expanding workforce. Sutley spent 10+ years in the start-up e-commerce space, where she earned a reputation for building and scaling high-performing, growth-minded teams. In 2008, she was among the first employees at flash-sale sensation Gilt Groupe, which earned 150M in revenue after the first year. During her tenure at Gilt, Sutley assumed several roles, including Sr. Manager of Customer Experience, expanding the team from 4 to 100 globally and ensuring exceptional end-to-end customer experience across Technology, User Experience, and Operations.
Between 2013 and 2015, Sutley found herself at home helping online retail start-ups transform their service and operations functions to deliver best-in-class customer experience. "We can spend numerous hours crunching and analyzing data and perhaps everything will turn out ok, but if we have the ability to perceive and empower our employees, give them the tools they need and play to their strengths, we will be exceptional".
Most recently, she spent four years as VP of Operations for FlyCleaners, the leader in New York's door-to-door laundry cleaning and logistics services. During her time at FlyCleaners she built a strong internal culture, and put customers at the center of the company's decision making and product development. Supporting a 24/7 business, Sutley identified and implemented operational efficiencies to reduce cost, improve customer experience, and increase revenue. Under Sutley's leadership, FlyCleaners saw a 60% decrease in operating expenses, a 30% decrease in cleaning operations and a 25% increase in revenue.
According to Justin Harper, MD, CEO & Medical Director of Juvly Aesthetics, "Erin brings extensive strategic and operational experience and a passion for building high performance teams to Juvly. In addition, her vision for delivering exceptional customer experiences will ensure we do an even better job of focusing on our valued clients in every location."
About Juvly Aesthetics
Founded by Dr. Justin Harper in 2014, Juvly Aesthetics has grown to one of the largest and most highly acclaimed aesthetic practices in the country. Juvly has 11 locations in the following states: Ohio, New York, Florida, Minnesota and Wisconsin with more opening in the near future. The clinics specialize in non-surgical aesthetic procedures including the Allergan, Galderma, and Evolus portfolios of injectable products, medical devices, and skincare.