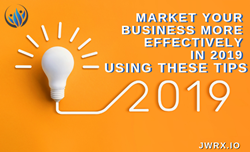 "Our goal was to create a source that would guide visitors through the 2019 marketing trends with exactly what we do to increase revenue for our clients using micro moment marketing and done-for-you funnels. JWRX Steal our Secrets for 2019 integrates the exact steps we take for winning campaigns."
San Diego, CA (PRWEB) January 05, 2019
JWRX, a leading source of content marketing strategies builds on the micro moment marketing trend moving into 2019. Gone are the days of a perfectly branded feed with no relevant information. Whether an instagram feed or blog post, consumers are on the lookout for real information that is meaningful.
Authenticity, engagement and real life snapshots are trending. JWRX provides the balance for companies to answer the questions I want to know, I want to go, I want to do, or I want to buy, using micro moments that are engaging. JWRX offers companies a streamlined experience and the ability for clients to build entire marketing campaigns without hiring a team of developers, web designers or system integrators.
"Our goal was to create a source that would guide visitors through the 2019 marketing trends with exactly what we do to increase revenue for our clients using micro moment marketing and done-for-you funnels. JWRX Steal our Secrets for 2019 integrates the exact steps we take for winning campaigns."
The 2019 marketing trend is for real in marketing campaigns. While companies should maintain branding, when it comes to any type of marketing, authenticity, transparency, and value are going to be essential. Case in point:

90% of millennials says authenticity is important when choosing which brands, products or service they support.
86% of consumers say that authenticity is a key differentiator that leads to a purchasing decision
73% of consumers would pay more for a product if the company behind it promises transparency
94% of consumers say they would remain loyal to a brand that provides complete transparency
As more social media platforms are coming out, it's literally impossible to be on them all. It is important to choose those that speak to your audience specifically using a content strategy JWRX has formatted in Steal Our Secrets.
Trending in 2019 content marketing is picking social media platforms that speak best to your customer and developing quality content on them versus quantity. Follow JWRX on Instagram.
JWRX a Business Consulting and Marketing Content Firm that solves complex business problems by leveraging content and technology. JWRX develops content marketing, lead generation and educational platforms delivered in easily consumed format to help C-Level Executives, small businesses and solopreneurs move forward.