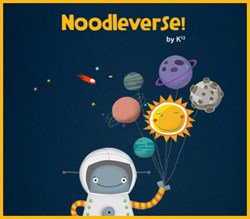 Noodleverse allows young learners to practice and hone a wide variety of essential Language Arts skills through research-based fun activities and games.
Herndon, VA (PRWEB) December 03, 2013
Industry leader K12 Inc. (NYSE:LRN) is continuing to serve the needs of young learners through the release of a new product that delivers a dynamic and engaging educational experience: Noodleverse TM Language Arts -- a universe for your noodle -- offers learners in grades K-2 an opportunity to explore a comprehensive, grade-specific set of content to enrich their language arts curriculum. The product will expand in the future to include offerings for Grade 3.
Noodleverse is the latest addition to K12's lineup of educational offerings, joining the recently released EmbarK12™ Online. EmbarK12 Online is an innovative, research-based, kindergarten-readiness product being made available directly to consumers. It's an extension of the award-winning EmbarK12 Comprehensive program already introduced in some of the leading national pre-K learning centers.
"Possessing solid reading and writing skills is critical when it comes to success in school and in life, and Noodleverse allows young learners to practice and hone a wide variety of essential Language Arts skills through research-based fun activities and games," said K12's Director of Primary Literacy, Dr. Kristen Kinney-Haines.
Noodleverse Program Description

Students can review and practice core concepts in Language Arts. Categories include Phonics, Spelling, Vocabulary, Literature and Comprehension, Writing Skills, Handwriting, Critical Skills Practice, and Language Arts Resources.
Thousands of engaging activities featuring fun characters, colorful animation, and playful sound effects help children get crucial reading and comprehension skills.
Program aligns to child's core Language Arts program and to Common Core education standards.
Noodleverse is the most comprehensive supplemental Language Arts program of its kind and a value at the affordable introductory price of $39 for a 12-month subscription
Find sample activities and more information about the content in each grade level of Noodleverse at http://www.noodleversek12.com.
K12 Apps
In addition to the EmbarK12 and Noodleverse programs, K12 Inc. recently announced the expansion of its free and paid mobile app offerings to provide even more content for families seeking engaging educational content for enrichment and practice. K12 currently has a portfolio of more than 22 unique mobile applications for Apple and Android users through iTunes Store, Google Play, and Amazon Appstore. Among the most sought after are K12's Periodic Table of the Elements and K12 Equivalence Tiles, providing students help with fractions, decimals, and percentages. The complete list of K12 Inc. mobile apps can be found at http://www.k12.com/mobile-apps.
About K12 Inc.
K12 Inc. is the nation's foremost provider of proprietary technology-powered online solutions for students in pre-kindergarten through high school. K12 has partnered with more than 2,000 school districts and has delivered more than 4 million courses over the past decade. K12 provides curricula, academic services and learning solutions to public schools and districts, traditional classrooms, blended school programs and families. K12 works with more than 5,000 teachers across the U.S. – the largest network of online school teachers in grades K through 12.
The K12 program is offered through K12 partner public schools in more than two-thirds of the states and the District of Columbia, and through private schools serving students in all 50 states and more than 110 countries. More information can be found at http://www.K12.com.