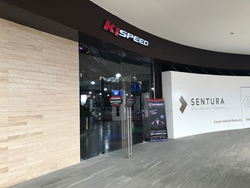 Sentura is just the beginning of a half-dozen new international franchise locations expected to open in 2019.
IRVINE, Calif. (PRWEB) February 13, 2019
The world's premier indoor go-karting operator, K1 Speed, is happy to announce the opening of Sentura Mall in Tlalnepantla, Mexico, which becomes the company's 10th international franchise location to open since the program was introduced a couple years ago.
Popularity for K1 Speed has exploded in Mexico since it became the company's first country to host an international franchise location in 2016, with the opening of its Querétaro location. Sentura is K1 Speed Mexico's fifth location to open in its quest to meet the demand of racers, families and friends that flock to the other Mexican locations in Garden Santa Fe, Manacar, and Monterrey.
Sentura features everything that has thrilled racers since the company's inception 15 years ago: the fastest all-electric go-karts, a professionally designed track, state-of-the-art amenities, modern décor, and a museum-quality collection of motorsport memorabilia.
Sentura is just the beginning of a half-dozen new international franchise locations expected to open in 2019. Panama's first K1 Speed is expected to open in several months and will deliver the country's first indoor electric go-karting experience. This will neighbor the Puerto Rico location in the Caribbean that has quickly become one of our most popular locations.
In early summer, Canada will open its second K1 Speed location in Montreal. The country has enjoyed surging business at its Toronto location since opening last year.
This year will also see K1 Speed expand into its second European country, after opening its first location in Lyon, France in late 2018. Italy will be opening its first K1 Speed in Milan near Monza, while France will add another location – this time in the "City of Light", Paris.
The Middle East is expecting its first K1 Speed when Kuwait opens its doors in the near future.
Finally, Asia will be hosting another K1 Speed location. Currently, K1 Speed can be found in South Korea's Vivaldi Park and its Chinese location in Shenzhen. China will be opening a second location sometime later this year.
"I think it's tremendous that K1 Speed has translated so well across many different countries," says K1 Speed's founder. "Not only will the world's best indoor karting experience be more accessible, but these countries will now instantly become a part of our E-World Championship, the first electric karting championship of its kind."
Though impressive on its own, 2019 is only a rung in the ladder of K1 Speed's expanding international franchise that is set to see a further 20 locations open in the years ahead, as many new countries eagerly sign up to be a part of the success.
ABOUT K1 SPEED
Founded in 2003, K1 Speed is the world's largest indoor kart racing operator with over 40 centers across the globe that offer a unique upscale entertainment concept for casual consumers, racing enthusiasts and corporate or group events. K1 Speed is the first choice for anyone who wants to experience genuine racing in state-of-the-art European electric karts that are eco-friendly, and safety oriented while providing superior performance to traditional gas karts. Each K1 Speed location is designed as a large entertainment venue with professionally-designed tracks and cutting-edge décor showcasing authentic racing memorabilia along with ample seating and viewing areas, spacious lobbies, meeting rooms and a place to eat and drink.
The International Franchise was launched in 2016 to meet the international demand for a K1 Speed location. Recently, France joined the US, Mexico, South Korea, Canada, China and Puerto Rico as the seventh country with at least one K1 Speed location. Panama, Italy, and Kuwait are lined up to open in 2019, while many other countries have signed up and are currently in the planning phase.
CONTACT:
Ryan Jurnecka
marketing(at)k1speed(dot)com