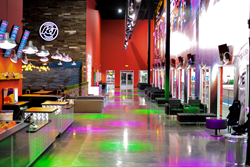 Located in Hillsboro in the Greater Portland area, this Portland location is Oregon's first all-electric go kart racing attraction.
IRVINE, Calif. (PRWEB) December 10, 2018
K1 Speed, the world's premier indoor go-kart racing company, is excited to announce the opening of its first Oregon location today, Monday, December 10.
Located in Hillsboro in the Greater Portland area, this Portland location is Oregon's first all-electric go kart racing attraction. The city choice is appropriate given Portland's reputation of being one of the most environmentally conscious cities in the world. Since the karts are emissions-free, racers don't have to breathe in noxious fumes and their clothes won't reek of exhaust when they leave.
Racers that are used to driving gas karts are going to love the performance advantage of the electric karts. These Italian go karts are noticeably faster than their gas-burning counterparts, delivering instant torque and a top speed that approaches 45 miles per hour –the fastest in the industry.
Portland is known for its rainy winters, so racers will appreciate the indoor 11-turn road course-inspired track that has been professionally designed for maximum overtaking. State-of-the-art Protex barriers line the circuit providing a much safer alternative than the flimsy tire barriers found at most karting attractions.
Off-track, visitors can explore the museum-quality motorsport memorabilia collection on display or take a trip to the arcade that includes video games, air hockey and pool tables, ensuring the fun never ends.
Those who are hungry or thirsty from intense wheel-to-wheel racing can take advantage of the on-site Paddock Lounge eatery that serves delicious food such as pizza, wings, brats, and nachos in addition to a variety of refreshing ice-cold beverages.
For over 15 years, K1 Speed has been trusted by some of the country's biggest companies and most famous families for a memorable event that's professional yet exciting. As a result, this location is sure to become a popular choice for birthday and company parties in the Portland area. There are two private meeting rooms on site to accommodate groups large and small, and catering options are available to complete a well-rounded event.
For more information about K1 Speed Portland including hours of operation and pricing, visit http://www.k1speed.com today.
ABOUT K1 SPEED
Founded in 2003, K1 Speed is the United States' largest indoor kart racing operator with 40 centers across the globe and offers a unique upscale entertainment concept for casual consumers, racing enthusiasts and corporate or group events. K1 Speed is the first choice for anyone who wants to experience genuine racing in state-of-the-art European electric karts that are eco-friendly, and safety oriented while providing superior performance to traditional gas karts. Each K1 Speed location is designed as a large entertainment venue with professionally-designed tracks and cutting-edge décor showcasing authentic racing memorabilia along with ample seating and viewing areas, spacious lobbies, meeting rooms and a place to eat and drink.
K1 Speed also offers an International Franchise Program, and has already enjoyed success in France, South Korea, Canada, Puerto Rico, China, and several locations in Mexico. Future locations in Italy, Panama, and other countries are currently in development.
CONTACT:
Ryan Jurnecka
marketing(at)k1speed.com