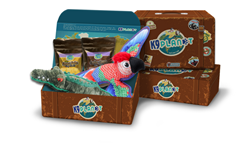 The idea to combine the love for our dogs and our love for travel led to the K9 Planet Adventure Box, which combines the joy of dog ownership with the excitement of traveling to new and interesting places." said Randy Shapiro, Founder and President of K9 Planet
EL PASO, Texas (PRWEB) August 29, 2019
K9 Planet launches its Adventure Box on Indiegogo today bringing fun and excitement to both dogs and their owners. K9 Planet Adventure Box embodies the love of exploration, the passion for the world we live in and the joy of experiencing it all. Each month dogs and their owners will receive a new location-themed box containing two durable toys, two healthy treats, a postcard, and a special surprise just for the owner.
"We are passionate dog lovers who are regularly travel for work and play," said Randy Shapiro, Founder and President of K9 Planet. "The idea to combine the love for our dogs and our love for travel led to the K9 Planet Adventure Box, which combines the joy of dog ownership with the excitement of traveling to new and interesting places."
To add another level of excitement, K9 Planet is introducing their mascot, Ace, a world-traveling dog who flies around the world in a yellow plane, visiting different locations. Each box is themed after the various locations he visits.
Every toy in the Adventure Box is durable and made of high-quality materials to maximize fun and play time for both the dog and the owner. The box also includes two bags of healthy dog treats made with limited ingredients produced in the US and Canada.
Dog owners can now travel the world with their pups, learning and exploring new, exciting destinations, all from the comfort of their home. As boxes are delivered each month, owners and their pups can follow Ace as he races around the globe, visiting as many places as possible – while having fun uncovering little-known facts about each location.
K9 Planet Adventure Box is currently available for pre-order on Indiegogo for $29. For more information about the campaign, or to place a pre-order, visit pr.go2.fund/k9planet.
About K9 Planet
The team at K9 Planet have been in the pet business for over 20 years. We love sharing our passion for dogs and adventures. We believe in the importance of dog owners having a variety of fun ways to connect with their dogs. The K9 Planet Adventure Box combines adventure with the love we have for our dogs, creating the perfect balance of fun, engaging, and informative play. To learn more, visit https://k9planet.com/.