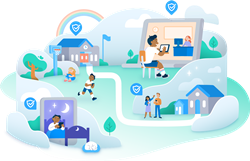 With their 360, Safety, and 1:1 Cloud solutions, Securly brings comprehensive student safety and 1:1 management solutions to districts for the first time ever.
SAN JOSE, Calif. (PRWEB) December 12, 2019
Currently protecting over 10 million students in more than 15,000 schools, Securly has announced the release of 360 Cloud, a comprehensive student safety and device management solution for K-12 districts. The 360 Cloud provides districts and schools a unified platform to help them address student safety and device management needs across the school district and at home.
Vinay Mahadik, co-founder and CEO of Securly, explains, "Securly pioneered student safety by building AI-based sentiment analysis and notifications in our flagship Filter product. We continued to build our student safety line with further complementary solutions. The acquisition of MDM and Classroom allowed us to shape the broader student experience online on mobile and 1:1 devices in the classroom. With advancements in the role of technology in K-12 education, the time has come to elevate the conversation from website databases, software agents, and appliances — a 20-year old commodity technology — to an end-to-end student safety and online experience. With our 360, Safety, and 1:1 Cloud solutions, Securly brings comprehensive student safety and 1:1 management solutions to districts for the first time ever."
360 Cloud is the only solution offered to the K-12 market that addresses all three needs of school districts: safety, management, and community. The breadth of solutions offered touch all aspects of students' online experiences — risk analysis for suicide and violence, in-school and at-home web filtering, classroom learning, school device management, and more. 360 Cloud enables administrators, families, and teachers to work together in partnership for students' overall success by providing tools for online protection, educational empowerment, and emotional safety.
K-12 districts can access the following products with 360 Cloud:
Safety

Filter: Scalable, cloud-based web filtering for every device in the district. AI-based monitoring of bullying, self-harm, and violence.
Auditor: Real-time email, Docs, and Drive scanning with AI-based notifications for nudity, bullying, self-harm, and violence.
24: Highly-trained specialists that review and alert on flagged activity, 24/7.
Tipline: Anonymous tip line and risk assessment for each incident.
Management

MDM: Mobile device management for Apple devices.
Classroom: Cloud-based classroom management for Chromebooks that allows teachers to guide online activities, keep students focused, and communicate directly with the class.
Community

Visitor Management: Visitor management system with instant identity checks for guests that visit the school.
Home: Parent app with activity tracking, feature-rich device and screen time management when school devices go home.
Go: App that allows parents to monitor and protect all of their family's personal devices no matter where they are.
In addition to the release of 360 Cloud, Securly is also offering smaller solution bundles for districts that may not require the entire solution suite at once. 1:1 Cloud provides schools tools for filtering, classroom management, and device management with Filter, MDM, Classroom, and Home, while Safety Cloud keeps students protected with a combination of Filter, Auditor, Tipline, Home, Go and Visitor Management. Both Safety and 1:1 Cloud are eligible to include 24, Securly's award-winning monitoring service, as an add-on to each bundle.
Learn more about Securly's online safety solutions at http://www.securly.com.
About Securly
Securly is an EdTech company whose mission is to keep students safe and productive at school and at home. Wherever digital devices are used, Securly's cloud-based products work to filter content, manage apps, ensure compliance, alert schools to cyberbullying and self-harm, while engaging teachers, students, and parents. Securly's patented automation and AI sentiment analysis, combined with 24/7 human monitoring by trained safety experts, protect over 10 million students each day. Awarded for innovation and customer service, Securly is headquartered in San Jose, California with offices on three continents.
For more information, visit http://www.securly.com.