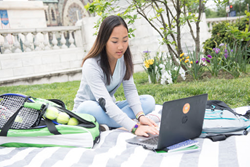 Our students, teachers and staff continue to expand the horizons of our community, and we can't wait to see what we achieve this year.
COLUMBIA, Md. (PRWEB) September 06, 2018
International Connections Academy (iNaCA), a US-based accredited virtual private school, opened its virtual doors this week to more than 750 students in over 50 countries for the 2018-19 year. As technology and the need for digital literacy continues to impact our daily lives, families look to International Connections Academy's robust program for a high-quality education and flexible scheduling.
"As we begin another school year, we're pleased to welcome new and returning students from the US and abroad to our virtual community," said School Director Hannah Rinehart. "Our students, teachers and staff continue to expand the horizons of our community, and we can't wait to see what we achieve this year."
While International Connections Academy students log on for another successful school year, the results are in for the 2018 annual Parent Satisfaction Survey:

98% of parents are satisfied with the helpfulness of teachers
95% of parents agree that the curriculum is high quality
92% of parents agree that the technology tools improve their child's learning experience
91% of parents agree that their children are satisfied with the program
International Connections Academy currently serves students around the world who learn from home, or anywhere there is an internet connection, providing an award-winning US curriculum, state-of-the-art technology, high-quality teachers and a secure easy-to-use online learning system. The school offers a non-traditional learning environment for children who want a flexible schedule, are ahead or behind in the classroom, learn at a different pace from their peers, or want a more individualized approach to learning.
The flexibility offered by International Connections Academy is ideal for high school students like McKenna Godwin. Earlier in her education, McKenna attended school on a military base in Germany and, when her family moved to Texas, her parents decided online school would be the best option for her. The flexibility allows McKenna to spend time on her passions, including working at a martial arts studio and practicing archery.
Flexibility is also extremely important for sisters Genevieve Johns, entering 8th grade, and 11th grader Hailey Johns, of Indiana. Both girls are equestrian show jumpers and spend a considerable amount of time training in Florida to improve their skills.
The Johns sisters are also among the inaugural class of recipients for International Connections Academy's full-tuition scholarship program. New for the 2018-19 school year, the virtual school launched a merit-based scholarship program open to new and returning students who demonstrated a commitment to learning. The first class of winners range from grades 3-12 and reside in many different states across the country as well as internationally.
Enrollment is currently open for the 2018-2019 school year. Interested families can learn more by attending a virtual information session where advisors can answer questions related to the program, socialization in an online school, our award-winning curriculum and our interactive technology.
About International Connections Academy
International Connections Academy (iNaCA) is an accredited, online private school serving students in grades K–12 throughout the United States and abroad. Recognizing individualized instruction as the key to student academic and personal success, iNaCA's highly trained, certified teachers offer instruction tailored to each student's strengths and challenges using an award-winning computer-based curriculum, real-time instruction, and time-tested course materials from leading publishers. In 2017, iNaCA served students in the US and 57 countries. International Connections Academy is part of the global learning company Pearson. For more information, visit http://www.InternationalConnectionsAcademy.com.