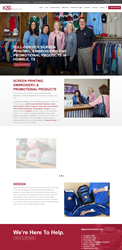 We have been lucky that we're still here, and I know we are going to be okay even with the pandemic's economic slowdown, says owner Brittney Mittag
HUMBLE, Texas (PRWEB) November 05, 2020
Community Impact Newspaper is a Houston, TX, based publication that reports on local business, transportation, education and health care news and provides information to millions of local residents and business owners each day online and monthly by mail. Many small businesses in the Houston area have struggled and felt the financial crunch from the coronavirus. The most recent edition of Community Impact Newspaper shared a story on how one particular Houston area small business has survived during these uncertain times. The informative article profiled longtime local printing and design service, K&S Sportswear, LLC.
In the story, published on October 27th, 2020, the current owner Brittney Mittag explained how K&S Sportswear, LLC has been able to stay in business during the coronavirus pandemic. For 25 years, this family-owned and operated company has provided printing and design services to the Humble, TX, community. Since the onset of the pandemic, Ms. Mittag said there have been many challenges in keeping the business afloat. The article explained that a key element to remaining successful was being creative in the services they offer. They made the decision to quickly pivot to provide products newly in demand, such as printing branded face masks and hand sanitizers. This successful endeavor helped the company supplement the loss of income they were dealing with. Overall, Ms. Mittag credits their ability to stay in business to their loyal customers who have provided support and continued the use of their services.
"We have been lucky that we're still here, and I know we are going to be okay even with the pandemic's economic slowdown," says owner Brittney Mittag.
Link to Community Impact Newspaper article - https://communityimpact.com/houston/lake-houston-humble-kingwood/business/2020/10/27/family-business-ks-sportswear-faces-new-challenges-during-pandemic/
More about K&S Sportswear, LLC:
K&S Sportswear, LLC is a full-service Humble, Texas, screen printing and embroidery company, also offering promotional items. They have been in business since 1995. Located off 1960 East in the Humble/Atascocita area, they service the surrounding communities as well as customers across Houston, the state of Texas and the United States. Whether you're a school, nonprofit organization, church, small business, corporation or individual, they can help. Being in business for over 25 years, they pride themselves on quality customer service and on time delivery. Contact them today for more information or help with your next project at 281-852-2918 or visit http://www.ks-sportswear.com.