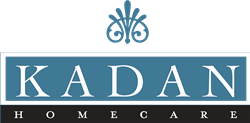 The positive feedback from our clients and caregivers is a testament to our excellence in care and our dedication to supporting our employees.
ATLANTA (PRWEB) February 09, 2023
Kadan Homecare, a highly awarded homecare agency in metro Atlanta, announced today that it has achieved national recognition for caregiving and operational excellence again this year. Kadan Homecare was named a Leader in Experience, a Provider of Choice and an Employer of Choice as part of Home Care Pulse's 2023 Best of Home Care® recognition program.
"We strive to provide quality homecare that is equal to, or above, what someone's family would provide for a loved one," said Dina Kadan White, Vice President, Kadan Homecare. "The positive feedback from our clients and caregivers is a testament to our excellence in care and our dedication to supporting our employees."
The Leader in Experience Award is the highest recognition awarded by Home Care Pulse (HCP) and is given to select home care businesses that consistently rank among the very highest in 10 or more quality metrics. As a repeat Leader in Experience recipient, Kadan Homecare remains among the top 15% of home care providers participating in the nationwide HCP Experience Management Program. Recipients must earn both Provider and Employer of Choice Awards and attain one of the highest overall satisfaction scores in the industry to qualify for the Leader in Experience award.
Client and caregiver opinions, as expressed in a year-long program of telephone surveys, determine the home care agencies' scores. An independent company which contracts with homecare agencies to conduct monthly telephone surveys of clients and caregivers, Home Care Pulse assures confidentiality in exchange for unbiased feedback.
"At HCP, our mission is to help home care businesses create an experience that goes beyond client and caregiver expectations," says Todd Austin, President of HCP. "When we see agencies like Kadan that have so effectively provided outstanding care and employment experiences, we know we're on the right track. Kadan has worked extremely hard to prioritize high-quality care and employment, and their work hasn't gone unnoticed. This award allows them to show proof of quality to potential clients and caregivers."
During its more than three decades of family ownership, Kadan Homecare has upheld its mission statement – Caring for Families Like Only Family Can – to shape every interaction with its clients and their families as well as their caregivers. To schedule a complimentary evaluation to explore companion services, personal care or transition programs, visit kadan.org or call 770-396-8997.
About Home Care Pulse
HCP leads the home-based care industry in experience management, training, and reputation management. Through its Care Intelligence Platform, HCP empowers providers in home care, home health, and hospice to attract and retain employees during workforce shortages. HCP also conducts the annual Benchmarking Report, the most comprehensive survey of providers in North America, and administers Best of Home Care awards to agencies that achieve best-in-class satisfaction scores. For more information, visit https://www.homecarepulse.com/.
About Kadan Homecare
Celebrating more than 35 years in business, Kadan Homecare is a family-owned, private duty homecare agency that provides companion and personal care, as well as skilled nursing, to help support families with short and long-term needs. Kadan's comprehensive C.A.R.E. Transitions™ program enhances post-discharge monitoring to help minimize hospital readmissions. Kadan currently provides caregiver services ranging from post hospitalization and respite relief to hospice assistance for families spanning 16 metropolitan Atlanta counties. For more information about Kadan, please visit http://www.kadan.org or call 770-396-8997.