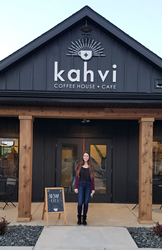 "Following the 7 Steps streamlined and simplified everything. If we didn't have Crimson Cup, I don't think we could have made the leap to do this. It would have been overwhelming."
COLUMBUS, Ohio (PRWEB) October 29, 2020
The owners of Kahvi Coffee House + Cafe at 3830 Talmadge Road in Eau Claire have infused their new urban casual coffee shop with Scandinavian mindfulness, community and fika.
"Kahvi is Finnish for coffee," said Co-owner and Manager April Becker. "It's easy to be mindful while drinking a smooth cup of coffee!"
Becker, former owner of Hope Tree Family Therapy, started the new venture with several partners from the Eau Claire business community. Cody and Molly Filipczak own C&M Real Estate. April's mother-in-law Chris Becker is C&M's managing broker. And Scott Knepper owns Trillium Commercial Realty.
Taking inspiration from Wisconsin's Scandinavian heritage, the group designed their shop to build a sense of community and act as a gathering place.
"We wanted to combine urban chill atmosphere, terrific coffee and Scandinavian roots," said Cody Filipczak.
Although Filipczak had the initial vision, he didn't have the time to run day-to-day operations.
"Cody approached me and thought it would be a good fit to work together," April Becker said.
After reviewing information from award-winning Ohio coffee roaster Crimson Cup Coffee & Tea, she gained confidence to move forward as manager.
Through its 7 Steps to Success coffee franchise alternative, Crimson Cup has helped hundreds of entrepreneurs in 30 states achieve their dream of opening a coffee shop.
The program is based on the book "Seven Steps to Success: A Commonsense Guide to Succeed in Specialty Coffee," by Founder and President Greg Ubert.
"As an entrepreneur myself, I thrive on helping other entrepreneurs open profitable coffee shops," Ubert said. "Kahvi Coffee House + Cafe is a delightful example of how independent shops can be as unique as their owners, their vision and the communities they serve."
Crimson Cup consultants guide new business owners through every step of opening a profitable coffee house – from writing a successful coffee shop business plan and choosing a location to training staff and creating a marketing plan.
As part of the program, a 7-Steps trainer with extensive industry experience conducts on-site training in the week leading up to opening day.
"Not having any experience with a new build, the complete blank canvas was intimidating with all the decisions to be made – especially since I didn't even drink coffee!" April Becker said. "Following the 7 Steps streamlined and simplified everything."
She said Crimson Cup's one-stop-shop approach, including equipment and initial inventory, gave her the self-assurance she needed.
"If we didn't have Crimson Cup, I don't think we could have made the leap to do this," she said. "It would have been overwhelming."
Roasted by Crimson Cup, the coffee has earned rave reviews from local customers. "People love that there's no bitter, burned flavor," said Chris Becker.
One of the shop's most popular drinks is the Fika mocha. This caramel-infused white chocolate mocha can be ordered hot, blended or over ice.
Often translated as "a coffee and cake break," fika is a concept and state of mind embedded in Swedish culture.
"Many Swedish companies schedule time every afternoon for staff to come together over coffee and pastries," April Becker said. "We would love to bring more people in Eau Claire together in this way."
Adjacent to several walking paths, Kahvi Coffee offers a dog-friendly patio and snacks for pups. Designed by C&M real estate, the urban cool interior features airy spaces, ample seating and a fireplace for cold Wisconsin days. A drive-through caters to coffee-lovers on the go.
The shop also carries a unique collection of pillows, wall hangings, small bags and other thoughtful gifts.
Kahvi Coffee House + Cafe plans grand opening celebrations with $1 mochas and lattes on Thursday, November 19. The first 100 customers on Friday, November 20 can score a free Kahvi Coffee mug.
On Saturday and Sunday, November 21 and 22, customers can take 25 percent off retail goods. Anyone wearing blaze orange or blaze pink can also pick up a $2 mocha or latte to celebrate the opening weekend of hunting season.
Cody Filipczak says this is only the beginning for Kahvi. "We have really big goals and high expectations and hope to open many, many more stores!"
About Crimson Cup Coffee & Tea
Columbus, Ohio coffee roaster Crimson Cup Coffee & Tea is a 2020 Good Food Award winner, 2019 Golden Bean Champion for Small Franchise/Chain Roaster and Roast magazine's 2016 Macro Roaster of the Year. Since 1991, Crimson Cup has roasted sustainably sourced craft coffee in small batches. It sells coffee to consumers and distributes wholesale coffee beans.
Through its 7 Steps to Success coffee franchise alternative program, the company teaches entrepreneurs to run independent coffee houses in their local communities. By developing a coffee shop business plan, entrepreneurs gain insight into how much it costs to open a coffee shop.
Through its Friend2Farmer™ initiatives, Crimson Cup also supports life-enriching projects that promote the education, health, sustainability and economic growth of small-plot coffee farmers and their communities.
Crimson Cup coffee is available through over 350 independent coffee houses, grocers, college and universities, restaurants and food service operations across 30 states, Guam and Bangladesh. The company also operates several Crimson Cup Coffee Houses. To learn more, visit crimsoncup.com, or follow the company on Facebook, Instagram and Twitter.