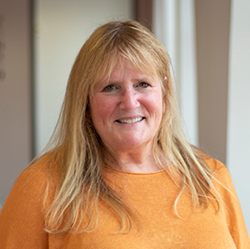 Kaleidoscope is unique in their philosophy to incorporate Human Factors throughout the entire design continuum from feasibility to validation.
CINCINNATI (PRWEB) October 04, 2018
Kaleidoscope Innovation, a product development firm that provides services ranging from insights, design and development, has hired Valerie Fenster as the new Director of Insights and Human Factors.
Valerie brings 30 years of experience in leading Human Factors Engineering and cross-functional teams to ensure human user requirements remain foremost in developing leading device and design solutions. She is adept at developing intuitively optimized interfaces for critical business applications. Valerie is an experienced and effective advocate and teacher on the topic of implementing Human Factors Engineering and Human-Computer Interaction best practices.
"Valerie brings distinct insights, commitment to human-focused design and perceptive leadership that to Kaleidoscope Innovation's continuum of design solutions," said Bo Gill, Vice President of Product Development for Kaleidoscope Innovation. "Her extensive experience in medical product development and numerous other industries will continue to strengthen our commitment to delivering human-centered solutions for our business partners and the individuals and communities they serve."
Valerie most recently served as Senior Manager for the Human Factors Engineering (HFE) group at Amgen, a leading biomedical developer in Thousand Oaks, CA. In this position, Valerie founded the HF Engineering group, growing the organization from just herself to nine full-time personnel. She successfully guided the Human Factors process and regulatory filings for combination products such as Enbrel®, Repatha® and Aimovig® SureClick® autoinjectors and prefilled syringe devices. Valerie's insight also promoted the success of the Enbrel® Mini™ with AutoTouch™ reusable autoinjector, as well as wearable devices, such as the Repatha® Pushtronix®, and the Neulasta® Onpro® devices.
Another highlight of Valerie's career was working at Abbot, formerly St. Jude Medical. Here, Valerie was instrumental in developing the Merlin.net™ Patient Care Network– a complete remote care connectivity system that enables patients to conduct at-home data transmissions for implantable cardiac rhythm management devices. She has also served as Vice President of Bank-Customer Interaction for Citibank in New York and as Vice President of Marketing Planning for Ketchum Communications in San Francisco.
Valerie is excited about joining Kaleidoscope Innovation, where Human Factors is an integral part of operations. "Kaleidoscope doesn't limit the role of Human Factors to just research or as a requirement for product submissions to the FDA or other health authorities," Valerie said. "Kaleidoscope is unique in their philosophy to incorporate Human Factors throughout the entire design continuum from feasibility to validation."
For someone like Valerie, who has a natural curiosity and insight into human behavior, Human Factors is a perfect fit. "I have always had a strong interest in what makes people tick and what makes them fear and what makes them embrace technology," she said. "I love creating pleasing designs where the intricacy and the technology behind the physical design are transparent to the user." She adds that her work in Human Factors Engineering provides the perfect choice for uncovering problems, unraveling pain points and finding elegant solutions to create satisfying designs.
In addition to Valerie's extensive experience in medical device and combination device development, notable non-medical clients include American Express, AT&T, Bank of America, Citibank, General Electric, Merrill Lynch Direct, PNC Bank and Prudential Insurance.
Valerie received her MS from DePaul University in Chicago; and BAs from both Argosy University in Phoenix and California State University. Valerie is based in the Los Angeles market area and will frequent Cincinnati as well as other Kaleidoscope Innovation locations throughout the U.S.
About Kaleidoscope Innovation
Founded in 1989, Kaleidoscope Innovation is a full-service, ISO 13485:2016-certified insights, design and development firm with extensive expertise in medical device development. Offering both consultancy-style and on-site direct product development services, Kaleidoscope Innovation flexes to best help their business partners solve their development challenges. They provide a full breadth of disciplines to meet their partners where they are in their development process including: Insights & Human Factors, Industrial Design & User Experience, Engineering, Visualization and Software Development.