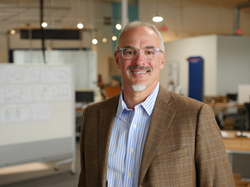 Fegelman's extensive experience in medical affairs has the potential to decrease clinical risk and increase commercial readiness for our clients.
CINCINNATI (PRWEB) August 28, 2019
Kaleidoscope Innovation, a full-service insights, design and development firm, has hired Dr. Elliott Fegelman, as the new VP of Medical Affairs. Fegelman brings over 20 years of experience as a medical and clinical leader for surgical product development to help ensure end-user perspectives remain central to the development of leading device solutions.
Fegelman is an expert clinician with success translating unmet needs at the bedside and in the OR to commercially viable products and services.
"The addition of Dr. Fegelman to the Kaleidoscope team means we can incorporate clinical user feedback throughout the development process in an even more efficient way," said Dr. Michael Clem, VP of Research & Development for Kaleidoscope Innovation. "His extensive experience in medical affairs has the potential to decrease clinical risk and increase commercial readiness for our clients."
Fegelman most recently served as Vice President and Therapeutic Area Expert at Johnson & Johnson Medical Devices focusing on the Ethicon business, a leading manufacturer of surgical technologies and solutions based in Cincinnati, OH. In this position, Fegelman was integral in shaping the company's medical affairs, clinical research, business development, thought-leader engagement and training programs.
Prior to joining Ethicon, Fegelman served as the Chief of Surgery at The Cincinnati Jewish Hospital. There, Fegelman led the entire clinical and academic surgical service line at a tertiary teaching hospital. He was responsible for faculty recruitment and retention, curriculum development, credentialing of medical staff and clinical quality assurance.
Fegelman is excited about joining Kaleidoscope, where the user is central to product development. "At Kaleidoscope, I can partner with medical device manufacturers to help them understand what really matters in clinical practice and what is required for regulatory acceptance," explained Fegelman. "This real-world experience is critical throughout the product development process, in risk assessment, during commercialization and when evaluating the acquisition of new technologies."
Fegelman earned his medical degree from Wright State University, School of Medicine in Dayton, OH, following his graduation from Denison University. He completed his residency and chief residency in surgery at the University of Cincinnati.
About Kaleidoscope Innovation
Kaleidoscope Innovation is a full-service product development firm innovating across medical, consumer and industrial markets. For over 30 years our clients have partnered with Kaleidoscope to improve the human experience. Offering both consultancy-style and onsite services, they provide a full breadth of disciplines to meet their partners where needed, including: Insights & Human Factors, Industrial Design & User Experience, Engineering, Visualization and Software Development.