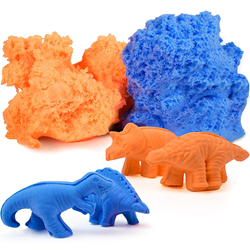 BELLEVUE, Wash. (PRWEB) December 18, 2018
As time is running out this holiday season, don't be too quick to grab a gift that's shiny and bright, only to eventually bury it in a closet to avoid its annoying buzzing. Instead, look to constructive toys that transpire into hours of brainy play shared with siblings, friends, parents and grandparents.
Not sure where to find such a treasure trove of learning toys?
Welcome to the STEM toys think tank at USA Toyz, where inventive building sets delight children and parents with hours of imaginative play. The following toy sets encourage hands-on, screen-free fun, allowing kids to build basic and complex structures, vehicles, animals and more.
One thing these cool creative toys don't include? Gender discrimination. All of these toddler toys are geared to attract both boys and girls a like. These gender-neutral toys make last minute shopping even easier – because who doesn't love zoo animals and building blocks, right!
Get all the details below to bring home memorable gifts that matter. And, for those who won't be home for the holidays, all of the USA Toyz STEM play sets come in a sturdy, sealable tote for easy travel. Yes, they've thought of everything!

Introduce kids to the nuts and bolts of engineering with Boltz educational toy tools and gear sets (Boltz 163 piece set and Boltz 101 piece set). Watch as gears turn and ideas connect as toddlers conceive and construct cool contraptions and crazy constructions with these creative building sets for kids! This quiet time activity brings out the best in family quality time, and teaches tots skills they'll carry through life.
Take building toys to the atomic level with Quarks 160 piece engineering and construction toys. Colorful multilink spheres, connecting rods, wheels and panels take spatial thinking to the third dimension. These toddler toys combine engineering concepts with fine motor activities to inspire quizzical and creative minds.
Spur kids' creative energy the therapeutic feel of Moosh fluffy modeling clay. This reusable, moldable foam putty is a favorite sensory toy that provides endless imaginative fun. Squeeze, smash and sculpt colorful 3D creations! Play sand sets come with either 4 dinosaur molds or 10 jungle animal molds.
Please contact Kaliber Global, parent company of USA Toyz for further info, quotes or sources you might need for your holiday guide, as well as a sample product requests.
########
About Kaliber Global:
Kaliber Global is a top-tier Amazon seller and the fastest-growing retailer in Washington State (Inc. 500, 2017). They are a locally owned business based in Bellevue, Washington that specializes in Amazon seller management as well as growing their own private-label brands in the Amazon Marketplace since 2012.
Contact:
Amber Norell
Marketing Manager, USA Toyz
407-432-0522
amber(at)kaliberglobal.com