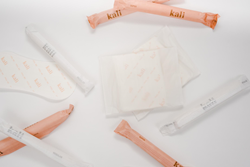 "If ever there was a reason to get excited about getting your period...this is it!"
Miami, Florida (PRWEB) November 17, 2016
A month before their first anniversary, Kali is proud to announce that they are now offering Organic Cotton Sanitary Pads as an option for their monthly feminine hygiene subscription box. Previously, Kali offered subscribers the option of Regular, Super, or Half & Half Certified Organic Tampons. After numerous requests from potential subscribers, the Founders decided to expand their product offering to include Organic Pads. In addition, Kali has added 10 Organic Cotton Panty Liners into every box for no additional fee.
"No two women's menstrual cycles are the same," explains Co-Founder, Jonna Piira, "So in an effort to serve as many women as possible, we surveyed our customers over the last year to find out what their greatest needs were. There are very few, if any, feminine hygiene subscription services that offer organic pads for women that do not prefer to use tampons. We knew that would be our next product and have been working for months on manufacturing a safe, organic option for our Kali Girls."
Kali subscriptions retail for $19.95 per month + $2.95 shipping and contain:
14 Organic Cotton Tampons OR 16 Organic Cotton Pads
10 Individually Wrapped Pre-Moistened Kali Wipettes
10 Organic Cotton Panty Liners
1 Rotating Period Pampering Product made with natural and organic ingredients
"We're especially excited about the addition of the panty liners into our Kali boxes. This will give women an option for light days and provide extra protection for our tampon users," adds Sara Shake. "If ever there was a reason to get excited about getting your period...this is it!"
Finally, with every Kali box sold, a $1 donation is made to Girl Up, the adolescent girl empowerment campaign from the United Nations Foundation. With more options for women, they look forward to growing their monthly subscriber base and their monthly impact through the Girl Up organization.
For more information, to request a sample or an interview with the Founders of Kali, please contact Melissa Sweredoski at melissas(at)madstudios(dot)net.
Kali is an organic and socially conscious tampon subscription box founded in 2014 by friends Jonna Piira and Sara Shake. Each Kali Box is shipped on the 20th of the month and includes 14 100% Certified Organic Kali Tampons or 16 100% Organic Pads with 10 Kali Wipettes, 10 Organic Panty Liners, and a rotating period pampering product. Kali subscriptions cost $19.95 per month + $2.95 shipping and are currently available in the United States.