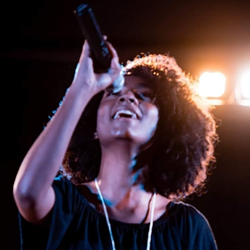 Kalista will be debuting at Scotiabank Arena, performing the National Anthem at the Toronto Raptors game on February 8th.
TORONTO (PRWEB) February 07, 2020
For Kalista of Girl Pow-R, exciting times are ahead. Last week, she found out her vocal group Girl Pow-R was nominated for a JUNO award for their recent album "This is Us". The recording is up for "Children's Album of the Year." This is an historic achievement as this is the first time in history that young people, or children, have been nominated for a JUNO in the Children's Album of the Year category.
Kalista will also have her inaugural opportunity to perform the National Anthem at the upcoming Toronto Raptors game on February 8, 2020 at the Scotiabank Arena, where she will sing both the Canadian and US National Anthems.
As a solo performer, Kalista has performed at dozens of events in the Durham Region and beyond, including the Concert to Feed the Need in Durham this past December, where she was the closing act. With a unique style that blends pop, R&B and jazz, Kalista has been performing since she was 10 years old and is currently studying at a specialized arts school in the Durham Region in the AMP program Vocal. She's also an actor, model and volunteer with many local charities.
Girl Pow-R is an all-girl pop rock band, ages 11 to 17, who create & sing original music, cover songs, play instruments, as well as dance, with a mission to inspire young people and to support social causes with their music. In the past three years, they've performed more than 200 live shows, including a U.S. tour this past summer.
For more information about Girl Pow-R, please contact:
Dawn Van Dam
Canyon Entertainment Group
info@canyonentertainmentgroup.com
416-402-8274