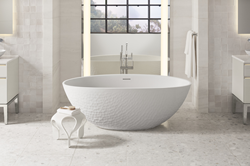 KOHLER, Wis. (PRWEB) October 19, 2020
KALLISTA, designer and distributor of fine plumbing products, collaborated with New York-based design and architecture firm Workshop/APD on two new designs for the bathroom – the Argile Freestanding Bathtub and complementing Argile Decorative Vessel. Aptly named Argile (pronounced ar-geel), which means clay in French, speaks to the overall organic aesthetic of the minimalist designs – from the forms' cocooning half-moon shape to the textural raised pattern that cascades over the exteriors in decorative relief. With its modern sensibility and engaging visual contrast, the tub and vessel offer artful, uncommon designs not typically available within today's mainstream marketplace.
The balanced simplicity of the Argile Freestanding Bathtub and Decorative Vessel emphasize the strength of line each present and the unique surface detail that gives each form such remarkable presence and sophistication. "We wanted to create a modern basin and tub that weren't cold, that felt handmade and handcrafted," said Matt Berman, founding principal, Workshop/APD. "There is nothing more beautiful than a design that reveals the hand of its maker. These pieces express that sentiment perfectly with a textural gradient effect that goes from smooth, polished edges to a carved surface inspired by wood cuts and carved or tooled clay."
Crafted from a blend of fine mineral powder and resin, the 72-inch wide Argile Freestanding Bathtub offers a deep relaxing soak with an integrated drain and overflow to easily accommodate two bathers. The tub's slanted sides are ergonomically designed to comfortably support while the cast mineral and resin composition maintains the water at an optimum temperature for extended periods. The integrated drain includes a round toe-tap with material-matched cover for easy dispensing of water. The Argile Decorative Vessel is made from cast stone, its rounded shape and impressive four-inch depth creating a generous basin that naturally discourages splash-ups. The basin's smooth interior is fitted with a center drain for quick water release. The Argile designs are offered in KALLISTA Honed White, a new matte finish by KALLISTA that captures the soft, textural appeal of hand-honed stone.
About Workshop/APD:
At Workshop/APD, an award-winning New York City-based multidisciplinary design and architecture firm, each project is uniquely defined by a sense of place and purpose and a desire to ultimately enhance the user's experience through exceptional design. From sleek penthouses and seaside retreats to luxury residential developments and groundbreaking hotels and restaurants, the Workshop/APD aesthetic is timelessly modern but site-specific, unbound by project type or a singular style. Led by founding principals Andrew Kotchen and Matt Berman and principal Thomas Zoli, a collaborative team of more than 50 architects, interior designers and product designers leverages vast and highly varied experiences to solve complex design challenges, resulting in spaces that are exceptionally beautiful and accessible.
About KALLISTA
KALLISTA is known for its designs of luxury plumbing products, offering faucets and fixtures thoughtfully created for tasteful, whole-bath solutions. KALLISTA is available in fine showrooms in major cities throughout the world. Kallista, along with sister brands Ann Sacks Tile and Stone, Inc., and Robern mirrored cabinetry and vanities, is a division of the Kohler Co. Decorative Products Group, a wholly owned subsidiary of Kohler Co.
About KOHLER®
Founded in 1873 and headquartered in Kohler, Wis., Kohler Co. is one of America's oldest and largest privately held companies. Kohler is a global leader in the manufacturer of kitchen and bath products, engines and power generation systems, cabinetry, tile and home interiors, and international host to award-winning hospitality and world-class golf destinations.
For additional information regarding the Argile Freestanding Tub, the Argile Decorative Vessel and other KALLISTA products, consumers can visit http://www.kallista.com.