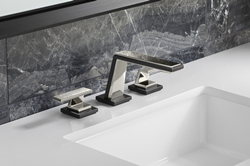 KOHLER, Wis. (PRWEB) October 14, 2020
KALLISTA announced the unveiling of the Klyne Collection, a sophisticated take on bathroom design. Inspired by an interplay of geometric form and mixed metals, the boutique collection features two widespread faucets with a range of bathing and showering products and complementing accessories. Klyne adds yet another dimension to its product portfolio with a fashionable décor statement that is distinctive in its elemental details but will also complement other modern KALLISTA designs.
The KALLISTA Klyne Widespread Sink Faucet is a sleek design that reflects the spatial effect of a cantilevered structure or form. The narrow spout slightly widens at the neck before terminating to a square, raised base and flanked by rectangular lever handles, which are raised upon a similar base. There are two versions of the faucet – Klyne and Klyne Pure. Klyne creates an engaging visual effect with its stepped design and two-tone options, making this faucet both eye-catching and graphically appealing. Klyne Pure strips the faucet down to its simplest form, adding to its understated sophistication. The Klyne and Klyne Pure Sink Faucets come standard with the KALLISTA soft touch drain and are fitted with quarter-turn washerless ceramic disc valves for seamless operation and provide an environmentally sound 1.2 gallon minimum/maximum water flow rate.
"There is a certain swagger to the design that I wanted to come across visually and intrinsically," said Bill McKeone, Designer, KALLISTA. "Form, function and detail are critical to good design but equally important are the decorative elements that set it apart from the mainstream. There is an air of haute couture achieved in the mix of metal finishes that makes the Klyne faucet designs so aesthetically pleasing and a similar sensibility that melds beautifully with products from other contemporary collections within the KALLISTA repertoire."
The Klyne Sink Faucet is offered in two-tone finishes of Chrome or Nickel Silver with Matte Black accenting the faucet sides and bases or in an all Chrome, Nickel Silver, or Matte Black finish. True to its name, the Klyne Pure Sink Faucet is available in singular finish choices of Chrome, Nickel Silver, or Matte Black.
Rounding out the Klyne Collection are Wall Mount Bath Spout and Deck Mount Bath Faucet, Showerhead, Pressure Balance Trim, Pressure Balance with Diverter Trim, Thermostatic Trim, Volume Control Trim and Transfer Trim. In addition, a Freestanding Bath Faucet will be debuting later this year. Accessories featuring singular and two-tone finish options include 12-inch, 18-inch and 24-inch Towel Bars, a Towel Hook, and Toilet Paper Holder. The Klyne Collection bridges seamlessly with other KALLISTA contemporary designs for a whole bathroom solution to customize any bathroom setting.
About KALLISTA
KALLISTA is known for its designs of luxury plumbing products, offering faucets and fixtures thoughtfully created for tasteful, whole-bath solutions. KALLISTA is available in fine showrooms in major cities throughout the world. Kallista, along with sister brands Ann Sacks Tile and Stone, Inc., and Robern mirrored cabinetry and vanities, is a division of the Kohler Co. Decorative Products Group, a wholly owned subsidiary of Kohler Co.
About KOHLER®
Founded in 1873 and headquartered in Kohler, Wis., Kohler Co. is one of America's oldest and largest privately held companies. Kohler is a global leader in the manufacturer of kitchen and bath products, engines and power generation systems, cabinetry, tile and home interiors, and international host to award-winning hospitality and world-class golf destinations.
For additional information regarding the Klyne Collection and other KALLISTA products, consumers can visit http://www.kallista.com.