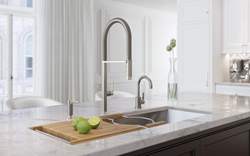 KOHLER, Wis. (PRWEB) October 26, 2020
KALLISTA, designer and distributor of fine plumbing products, has joined forces once again with Chicago-based, internationally recognized designer, Mick De Giulio, to create the Juxtapose Collection, a new line of kitchen faucets. Designed to delight both novice and kitchen connoisseur, the collection is comprised of a Single-Hole Semi-Professional Faucet, a Single-Hole Bar Faucet, a Wall-Mount Pot Filler, and a Soap/Lotion Dispenser. The designs are offered in a primary palette of Polished Chrome, Stainless Steel and Matte Black PVD finishes, which are artfully contrasted by Polished Chrome, Polished Nickel, Brushed Moderne Brass or Matte Black accent PVD finishes.
In conjunction with the Juxtapose Faucet launch, KALLISTA also unveiled the cold-water Contemporary Filter Faucet, new to the Foundations Collection. The first of its kind in the KALLISTA portfolio, the Contemporary Filter Faucet features a slim, minimalist design that pairs beautifully with the Juxtapose series. The faucet has a 360-degree swivel spout and requires a water filtration system, such as the KOHLER Aquifer Water Filtration System. The Contemporary Filter Faucet is available in Polished Chrome, Polished Nickel, Brushed Nickel, Unlacquered Brass, Matte Black and Stainless KALLISTA finishes.
KALLISTA's partnership with De Giulio began in 2011 with the introduction of the Multiere and the Soltiere chef-inspired kitchen sinks and accessories, and the Bacifiore entertainment sink, with the addition of the apron front Bacifiore sink in 2019. With a career that has spanned over four decades, De Giulio approached his KALLISTA faucet designs as he does all his work, with the eye of an artist, the deft hand of a craftsman, and the practicality of an engineer. Aptly named Juxtapose to reference the collection's intriguing mixed metal finish combinations, the faucets' slim profiles and chic details were designed to "bring the soul back into performance products," explained De Giulio.
"The challenge is always beauty and function," continued De Giulio. "A faucet with extended reach is very important in order to best work with larger sinks like the Multiere. A stronger and more flexible spraying function was also something I wanted to incorporate. The proportions were critical. I've had clients who would say they don't want a large industrial looking faucet in the middle of their beautiful kitchens, but at the same time, those faucets have some advantages of function. By addressing the proportions to be more sleek and pleasing, I wanted it to connect to the Soltiere and Multiere aesthetics. I first designed the semi-professional faucet, which became the centerpiece of the collection, and from that continued the same philosophy and aesthetics for the pot filler and entertainment faucets."
The result is a collection that is modern but not cold, effectively blurring the lines between appropriate scale and form with impeccable functionality. Pivotal to the series is the Juxtapose Semi-Professional Kitchen Faucet, a commanding design that is uber chic and expertly engineered to provide ultimate performance. The faucet head is ergonomically designed to fit comfortably in the hand, with a smooth magnetic docking system which securely locks the faucet head into place when not in use. The three-function sprayhead incorporates the latest in Kohler technology:

Aerate provides an even stream of waterflow;
Kohler Sweep® Spray with specially angled nozzles to create a wide, forceful blade of water for superior cleaning; and,
Kohler Boost™, a powerful option that immediately increases the faucet flow rate by 30 percent.
Users can easily move between the sprays with a discreet toggle at the back of the faucet to take on the most arduous tasks with the push of a button.
"I love that kitchens require so much to make them work: they need to be efficient, have a lot of conveniences and make sense ergonomically," said De Giulio. "Over the years, kitchen activities have evolved way beyond the basics of cooking, dining and cleaning. Today, the kitchen is the room where most of the day-to-day living takes place from doing homework to entertaining. Infusing comfort has also become highly important. But it doesn't stop there. The challenge in the design is to also have all of the elements in the space be beautiful in their own right and also come together. When it's done right, the impact on people's lives is enormous."
Beyond the functional beauty of the design is the Juxtapose Collection's inspired finish palette with its polished and matte metal options thoughtfully compiled to complement a wide range of interiors. Customers can choose from Polished Chrome; Stainless Steel with Polished Nickel accents; Matte Black with Brushed Moderne Brass accents; or, Matte Black.
"One of the biggest movements in kitchens over the past 20 years has been the continuing evolution of open plan kitchens and connected spaces," said De Giulio. "In general, there is less formality in people's lives and that has led to fewer walls and barriers within our homes. The faucets were designed to meld into spaces that are open and viewable from other areas, so a lot of emphasis was paid to the personality and look of the faucets."
About Mick De Giulio
Mick De Giulio has been creating kitchens for distinctive residences throughout the United States and abroad for over 45 years. In addition to residential kitchen design, his body of work includes commercial projects and product design for companies such as Abt Electronics, Kallista (a Kohler company), Meredith Corporation, SieMatic Gmbh, Sub-Zero/Wolf/Cove, and Tech Lighting – a Visual Comfort & Co. brand. De Giulio's work has been extensively featured in the U.S. and abroad in leading design publications including Architectural Digest, House Beautiful, Interior Design, Traditional Home, Germany's Architektur & Wohnen, and Italy's Ottagano. In 2005, he was recognized by Kitchen and Bath Business magazine as one of the 50 most influential people in the kitchen and bath industry over the last 50 years, and in 2016, he was inducted into the Merchandise Mart Hall of Fame, receiving the Lifetime Achievement Award for his contributions to design. Mick is the author of two books on kitchen design – Kitchen Centric (2010, Balcony Press) and Kitchen (2015, Pointed Leaf Press).
About KALLISTA
KALLISTA is known for its designs of luxury plumbing products, offering faucets and fixtures thoughtfully created for tasteful, whole-bath solutions. KALLISTA is available in fine showrooms in major cities throughout the world. Kallista, along with sister brands Ann Sacks Tile and Stone, Inc., and Robern mirrored cabinetry and vanities, is a division of the Kohler Co. Decorative Products Group, a wholly owned subsidiary of Kohler Co.
About KOHLER®
Founded in 1873 and headquartered in Kohler, Wis., Kohler Co. is one of America's oldest and largest privately held companies. Kohler is a global leader in the manufacturer of kitchen and bath products, engines and power generation systems, cabinetry, tile and home interiors, and international host to award-winning hospitality and world-class golf destinations.
For additional information regarding the Juxtapose collection and other KALLISTA products, consumers can visit http://www.kallista.com.