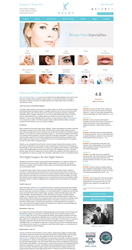 We are all facing challenges with COVID-19. In the meantime, for your privacy, convenience and safety, we are offering virtual consultations. I look forward to seeing my patients online and meeting with them again in person when it is safe to do so, says Dr. Benjamin Stong
ATLANTA (PRWEB) April 02, 2020
The health and safety of patients and staff have always been the priority at Kalos Facial Plastic Surgery in Atlanta, Georgia. As a result, the practice is currently closed for in-person appointments. However, Dr. Stong is now offering virtual consultations for his valued patients. The coronavirus (COVID-19) has quickly become a public health problem. With virtual consulting, patients can still gather facts, ask questions and meet confidentially with Dr. Benjamin Stong. This special service allows him to provide the same personalized care that is offered with in-office visits. Dr. Stong's most sought-after services include advanced facelifts, rhinoplasty, eyelid surgery, hair transplantation and more. Beyond his ability to provide natural-looking results, using the most minimally invasive techniques in plastic surgery, Dr. Stong also offers a full menu of non-surgical facial rejuvenation services at The K Spa.
Patients can now call to schedule their virtual appointment. In a few easy steps, the dedicated staff at Kalos Facial Plastic Surgery will guide patients through the process. Whether patients are seeking a second opinion, have questions or concerns, wish to correct a previous surgery or are interested in having a new procedure, Dr. Stong is still here for them during the coronavirus pandemic.
"We are all facing challenges with COVID-19. In the meantime, for your privacy, convenience and safety, we are offering virtual consultations. I look forward to seeing my patients online and meeting with them again in person, when it is safe to do so," says Dr. Benjamin Stong
More about Dr. Benjamin Stong and Kalos Facial Plastic Surgery, LLC:
Owner of Kalos Facial Plastic Surgery in Atlanta, Georgia, Dr. Benjamin Stong is dual board certified and fellowship trained in head and neck surgery and facial plastic and reconstructive surgery. He graduated from the University Of Alabama School of Medicine. He then attended Emory University where he finished his internship in general surgery and residency at the Emory Department of Otolaryngology. Following his residency, Dr. Stong obtained a highly sought after fellowship in facial plastic and reconstructive surgery with nationally renowned plastic surgeon, Dr. Andrew Jacono in NYC. Dr. Stong combines his training, experience and talent to generate superior outcomes in both surgical and non-surgical cosmetic surgery. Throughout his career, Dr. Stong has earned numerous accolades and recognition, including the Castle Connelly Top Doctor award for consecutive years.
If you would like to get more information about virtual consultations or services offered by Kalos Facial Plastic Surgery, LLC, please call their Atlanta office at (404) 963-6665 or visit the website at http://www.kalos-plasticsurgery.com.