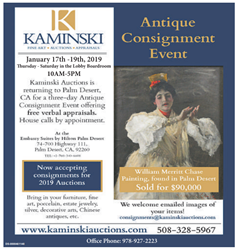 "Don't miss this opportunity to have an expert appraiser value your antiques ...free verbal appraisals."
PALM DESERT, Calif. (PRWEB) January 06, 2019
On January 17th, 18th and 19th Kaminski Auctions will be returning to Palm Desert, California to host a three-day Antiques Appraisal event offering free verbal appraisals for your antique fine art, jewelry, silver, porcelain, decorative arts, Asian antiques etc. The event will be held in the Lobby Boardroom of the Embassy Suites by Hilton, Palm Desert located at 74-700 Highway 111, Palm Desert, California, 92260 from 10:00 AM to 5:00 PM on a first come basis.
A Kaminski Auctions representative will be available by appointment for house calls for your larger items or you may bring in photos. We are now accepting consignments for our 2019 auctions. You may also email images to our team of expert appraisers at hmorgan(at) kaminskiauctions(dot)com.
Kaminski Auctions, located on the North Shore of Boston, has been serving the New England antiques market for over 30 years as a full service auction house and appraisal service for fine art, antiques and estates. As auctioneers of the Oprah Winfrey Collection and most recently,The Martha Stewart Studio Props Collection, Kaminski Auctions is uniquely qualified to handle collections large and small. Kaminski Auctions provides its customers with international exposure for their items on three live bidding platforms and bicoastal services with east coast offices in Beverly, Massachusetts and West Palm Beach, Florida and west coast offices in Beverly Hills and San Diego, California. If you are moving, downsizing or settling an estate we have highly trained and knowledgeable appraisers on staff that will help you determine the true value of your antiques, or entire collections. Our state-of-the-art auction gallery is located at 117 Elliott St. (Rt. 62), Beverly, Massachusetts. Kaminski Auctions hosts 24 plus auctions a year. For more information on this exciting event go to our website at http://www.kaminskiauctions.com or call our office at 978-927-2223.