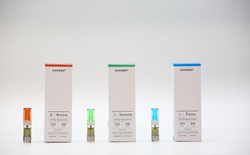 "We are happy to provide our German customers with a solution that's been high in demand, and answers a previously unmet need: a medical-grade technology that is paired with the highest quality of CBD formulas for inhalation." Avihu Tamir, Kanabo CEO
TEL AVIV, Israel (PRWEB) August 12, 2020
Under the terms of the agreement, Simply Green will have exclusive distribution rights for Kanabo's VapePod® proprietary delivery platform and formulas through its distribution network.
The agreement is based on Kanabo's VapePod platform, a medical-grade extract-based vaporiser, and the company's Hemp-based formulas Focus, Revive, and Serenity, which are pure, broad-spectrum, hemp extracts with naturally occurring terpenes. The VapePod platform consists of an unparalleled Vape formulation to be marketed in Germany with over 75% Cannabinoids and a metered-dose function that guarantees a 1.2mg of CBD formula every inhalation.
The relationship will allow Simply Green to commercially represent Kanabo across Germany (and other EU countries where CBD is legal). For the duration of the agreement, the two companies estimate that the deal will generate approx—€ 1M in revenue. Globally, the CBD market is projected to reach 8B€ in 2020 and with growing consumer demand, Germany is expected to be a major market in the upcoming years.
Avihu Tamir, Kanabo CEO: "We are pleased to form a strategic relationship with Simply Green, a leading wholesale marketplace in the European CBD Market. Moreover, we are happy to provide our German customers with a solution that's been high in demand, and answers a previously unmet need: a medical-grade technology that is paired with the highest quality of CBD formulas for inhalation."
Simply Green, founder Gabriel Turner: "We are very excited to work with Kanabo and to bring VapePod to the German market. Our customers seek out high quality in the CBD market, and we anticipate a huge level of interest. Since our launch in 2016, our focus on being at the forefront of the CBD market has been integral to everything we do, as well as seeking out products that will push the market forward. The VapePod platform helps unlock the potential of CBD, and we are proud to share its features with our audience."
Simply Green is one of the biggest CBD distributors in the European B2B market. With an online wholesale store stocking thousands of premium CBD products and accessories, they continually develop their range to offer the latest and most exceptional options for resellers. This continuous innovation helps consumers stay ahead of the game and source products in confidence every time.
Kanabo Research focuses on the distribution of cannabis-derived products for medical patients, and non-THC products for CBD consumers. They have conducted extensive R&D in order to develop high-quality cannabis oil formulas, innovative medical-grade vaporisers, and various non-smoking consumption solutions, making use easy and accessible for anyone in need of treatment. The company's clinical and validation activities, including safety and efficiency tests, are conducted in Israel, an established leader in the cannabis industry. Kanabo's OTC product lines are sold across Europe through pharmacies and wellness distributors.