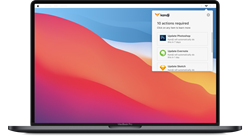 San Diego, CA (PRWEB) April 22, 2021
Kandji has announced $60 million Series B funding led by Felicis Ventures with participation from SVB Capital, Greycroft, Okta Ventures, and The Spruce House Partnership. The funding underscores the fast-growing market opportunity around Apple in the enterprise as companies look to Kandji for device management that streamlines the most common and complex tasks for Apple IT administrators and enables remote work deployments to get up and running quickly and securely. The investment comes on the heels of a $21 million Series A funding round in October, and includes funds from First Round Capital, which has participated in each of Kandji's four investment rounds to date. Kandji has raised a total of $88.5 million since it was founded in 2018.
"We see our investment in Kandji as an unprecedented opportunity," commented Niki Pezeshki, partner at Felicis Ventures. "Kandji has not only impressed us with their technical vision for next-generation Apple device management, protection, and compliance, but perhaps more importantly they have demonstrated the skill to capture a growing share of an expanding mobile device management (MDM) market. We are confident the Kandji team will continue to deliver on the outsized potential ahead."
Kandji offers midsize and enterprise customers a zero-touch solution for protecting and managing Apple products such as Mac computers as well as iPad, iPhone, and Apple TV devices, including keeping them in compliance. As these devices become exponentially more prevalent in the workplace, research indicates that the Apple Enterprise Management market is increasing by 17.8 percent CAGR and is forecast to reach $23 billion by 2024.
"We are pushing the limits of innovation in the fast-growing Apple enterprise management ecosystem so that modern businesses can thrive, whether in a meeting room, on the road, or working from home," said Adam Pettit, CEO and co-founder at Kandji. "Working hand-in-hand with our customers, we are solving the needs of even the most sophisticated companies. In the weeks and months ahead Kandji will again redefine Apple enterprise management with new, purpose-built upgrades that will accelerate the impact Apple devices have in the enterprise, big and small."
Kandji gives enterprises the power and flexibility to reach their productive and collaborative potential. The Kandji solution streamlines tasks for Apple IT administrators, making it easier to quickly and securely manage and deploy devices among distributed workforces. The company's customers- including Allbirds, Attentive, Belkin, Crunchbase, Noom, Siete Family Foods, Thrive Market, Remitly, Netskope, HackerOne, Rackspace, FabFitFun and SEMrush—span more than 40 global industries.
"Employees, especially the younger generation, often have a strong preference for Apple devices as businesses execute on their future of work strategies," said Mark Bowker, Senior Analyst, Enterprise Strategy Group. "Kandji's technology empowers companies to deploy and manage those devices—as well as to navigate the impact of compliance mandates like Center for Internet Security (CIS) and FedRAMP—more successfully."
With support for Apple products that goes beyond traditional MDM, Kandji provides for effortless access and onboarding and offers the largest library of one-click templates for pre-built security automation and endpoint compliance. "In response to enterprise demand, we have also broadened the platform to include single sign-on (SSO), self-service functionality, and an API for enterprise-grade extensibility, and will offer even more robust enterprise functionality in the coming months." commented Pettit.
About Kandji
Kandji is an Apple device management (MDM) solution built exclusively for IT teams at organizations that run on Apple. Kandji is a modern, cloud-based platform for centrally managing and securing your Mac, iPhone, iPad, and Apple TV devices, saving IT teams countless hours of manual, repetitive work with features like one-click compliance templates and more than 150 pre-built automations, apps, and workflows. Learn more at http://www.kandji.io.
# # #
Kandji and the Kandji logo are trademarks or registered trademarks of Kandji Inc in the United States and/or other countries. All other trademarks are property of their respective owners.