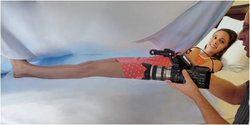 "This is an important media event, but also a wonderful opportunity for the Kangapoda team to celebrate all of its hard work."
Fort Lee, NJ (PRWEB) December 31, 2014
Today, Kangapoda Corporation announced that it will air its infomercial for the first time in Southeast Florida—Port St. Lucie to Miami—on Saturday morning, January 31, 2015 at 7 a.m. on WPXP-TV-D. A formal media event and pre-screening of the infomercial will be held the evening before on Friday, January 30 at PGA National Resort and Spa in Palm Beach Gardens. "This is an important media event, but also a wonderful opportunity for the Kangapoda team to celebrate all of its hard work," stated Hal Mintz, Kangapoda's founder. "We will pop the champagne and cross our fingers…and Kangapoda toes…and hope that the Southeast Floridians are ready to stop contorting their feet under the tucked-in covers."
To celebrate the milestone, Kangapoda invited its infomercial cast, vendors, consultants, investors, and some local and national media outlets to attend. According to Laura Rolon, Kangapoda's Director of Marketing, Southeast Florida was the perfect initial market. "We shot the infomercial in Fort Lauderdale, the cast resides in Florida, our Medical Advisor, Dr. Jodi Schoenhaus, resides in Florida, and our production team is also Florida-based. And, of course, Southeast Florida is a very exciting and representative market of people who prefer to watch TV at night under the tucked-in covers."
The event is structured as a cocktail party and will feature a king-size bed made up with a Kangapoda Sheet Set and a KangaPlush Blanket so attendees can experience the patented ergonomic superiority first-hand. There will be reminiscing and stories told, drawings to win a Kangapoda Sheet Set and a KangaPlush Blanket, and, of course, the screening of the long-form (28 minute 30 second) infomercial. Attendees are encouraged to come hungry.
There will be a breakout area for the media to conduct interviews; however, the media is also encouraged to book time earlier in the day should they prefer more dedicated time with the staff or to shoot special segments.
About Kangapoda
Headquartered in Fort Lee, NJ, Kangapoda is the inventor and patentee of bed top sheets and blankets that incorporate an ergonomically superior canopy at the foot of the bed so that when one reclines on his or her back, the feet may naturally and comfortably remain at a right angle. People are finally able to watch TV under the tucked-in covers in comfort without having their feet forced into unnatural positions. Kangapoda is introducing its breakout new products via an infomercial.
For more information visit http://www.kangapoda.com and follow Kangapoda on Facebook, Twitter, and Instagram (@Kangapoda).
For media inquiries contact, info(at)kangapoda(dot)com
###