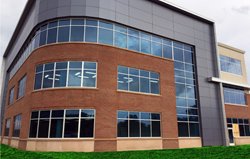 "I am excited about working in Liberty and providing convenience for our patients, so they don't have to be burdened or stressed by travel. Instead, they can be treated in the same office that they are accustomed to visiting." said Dr. Lane
KANSAS CITY, Mo. (PRWEB) September 11, 2018
U.S. Dermatology Partners is pleased to announce that its Kansas City Shoal Creek office has achieved accreditation by the Accreditation Association for Ambulatory Health Care (AAAHC). Accreditation distinguishes the Shoal Creek office from many other outpatient facilities by providing the highest quality of care to its patients as determined by an independent, external process of evaluation.
Status as an accredited organization means the Shoal Creek office has met nationally recognized standards for the provision of quality health care set by AAAHC. More than 6,000 ambulatory health care organizations across the United States are accredited by AAAHC. Not all ambulatory health care organizations seek accreditation; not all that undergo the rigorous on-site survey process are granted accreditation.
Along with the accreditation, the office now offers Mohs surgery, the most effective treatment for most types of skin cancer. The Mohs procedure involves surgically removing the cancer layer by layer and examining the tissue under a microscope until healthy, cancer-free tissue around the tumor is reached (commonly referred to as clear margins). Mohs surgery fellows are trained as a cancer surgeon, a pathologist and a reconstructive surgeon. Mohs surgery has the highest success rate of all treatments for skin cancer – up to 99 percent.
Dr. Kathryn Lane, a board-certified dermatologist and fellowship-trained Mohs surgeon, will provide Mohs care at the Shoal Creek office, offering more convenience for patients in the Northland area. "We are excited to provide the best treatment option, with the best success rate in a location convenient to our patients. Prior to offering Mohs Surgery in the Shoal Creek location, patients traveled to our Lees Summit location for surgery. Our patients had been asking for years that we offer something North of the river. I am excited about working in Liberty and providing convenience for our patients, so they don't have to be burdened or stressed by travel. Instead, they can be treated in the same office that they are accustomed to visiting."
About U.S. Dermatology Partners Shoal Creek
Dermatology and Skin Cancer Centers was founded in 1987 by Dr. Glenn Goldstein and was one of the first practices to offer Mohs Micrographic Surgery for high-risk skin cancer patients. Headquartered in the Kansas City area, Dermatology and Skin Cancer Centers, now a part of U.S. Dermatology Partners, is recognized as one of the top treatment centers in the nation for skin cancer prevention, diagnosis and treatment.
The new 4,000 square foot free standing dermatology center which includes 27 exam rooms, 12 surgery suites and a skin care center for aesthetic and cosmetic services opened Fall 2017. The facility includes a full menu of services including general dermatology, surgical dermatology, Mohs Surgery for skin cancer removal, cosmetic dermatology and aesthetic procedures. PDT light therapy is also offered as a treatment for actinic keratosis, sometimes referred to as "pre-cancers". The center, located in the South-East corner of 152 Hwy and Shoal Creek Parkway near the Shoal Creek Golf Course, provides convenient care for patients in The Clay County Communities of Liberty, Excelsior Spring and surrounding cities in the Northland area.
The Shoal Creek office is served by Glenn Goldstein, MD, Ross Reule, MD, Deborah Ohlhausen, MD, Kathryn Lane, MD, Nicolas Crowley, MD and Sileen Dowis, PA with capacity for future growth.
To schedule an appointment or for more information about services provided at the location, please call 816-524-4747.
About U.S. Dermatology Partners
As one of the largest physician-owned dermatology practices in the country, U.S. Dermatology Partners patients not only have access to general medical, surgical, and cosmetic skin treatment through its coordinated care network, but also benefit from the practice's strong dermatology subspecialty thought leaders and medical advisory board. To be the best partners to its patients, U.S. Dermatology Partners is fervently focused on providing the highest level of patient-first care, and its team therefore includes recognized national leaders in areas such as clinical research, psoriasis and Mohs Surgery. To learn more, visit usdermatologypartners.com.