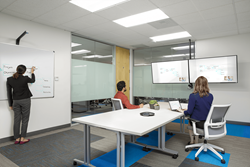 "If you walk into any conference or huddle room, you will likely see a whiteboard for brainstorming, planning, and visual ideation. Turning any standard whiteboard into a digital collaboration device is a game changer for BlueJeans customers." - David Hsieh, CEO Kaptivo
SAN MATEO, Calif. (PRWEB) August 28, 2018
Kaptivo, which transforms any whiteboard into a digital collaboration tool, today announced the availability of its integration with BlueJeans Network, Inc., the first cloud service to fully connect desktops, mobile devices, and room systems in one video meeting. One-touch whiteboard sharing enhances the collaboration possibilities of BlueJeans Rooms, recently named 2018 Unified Communications Product of the Year by TMC.
Standard dry-erase whiteboards are an outlier in the digital collaboration ecosystem. Before Kaptivo, there was no effective way to share whiteboard content with remote meeting participants. Phones and web cameras are difficult to position and often produce poor-quality images that show glare and people blocking the board. Digital drawing solutions such as tablets, interactive displays, and software have limited adoption and provide a less satisfactory user experience. Distributed teams often have less effective meetings for whiteboard centric activities like brainstorming, design or planning.
Kaptivo enables BlueJeans participants to overcome this communication bottleneck. The affordable camera attaches to the top of any standard dry-erase board to capture and share content in real time. The images are instantly enhanced to remove any reflections, glare, and people blocking the board. Kaptivo, which uses your existing whiteboard and markers, requires no apps, downloads or plugins. Simply press "Share Your Whiteboard" on your BlueJeans Dolby® Conference Phone or iPad, and the dry-erase content is shared instantly with all viewers.
"Companies are trying to find a way to adapt workspaces to meet the demands of the global and distributed workforce," says David Hsieh, CEO of Kaptivo. "If you walk into any conference or huddle room, you will likely see a whiteboard for brainstorming, planning, and visual ideation. Turning any standard whiteboard into a digital collaboration device is a game changer for BlueJeans customers."
"An important part of the modern work experience is to reduce friction, to get rid of anything that gets in the way of the meeting itself. Whether it's behavioral or peripheral, we want to eliminate anything that gets in the way. A traditional whiteboard requires users to take pictures of the board and send them to colleagues as follow up, and that impedes the flow of the meeting," said Steve Weinstock, business development and integration partnerships, BlueJeans Network. "Kaptivo enables us to enhance the BlueJeans experience for our users and continue our commitment to provide simple to use, fully integrated solutions that increase collaboration and productivity."
For more information or to request a demo, visit kaptivo.com/bluejeans.