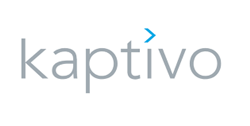 "These awards acknowledge our unique piece of the digital collaboration puzzle," said Kaptivo CEO David Hsieh.
SAN MATEO, Calif. (PRWEB) February 21, 2019
Kaptivo (kaptivo.com), creator of the world's best-selling whiteboard collaboration system, today announced the company is being recognized with two awards: a win in the Best of Show Awards at the recent ISE 2019 show, and selection as an award finalist at the upcoming Enterprise Connect 2019 show. Both of these shows are among the top venues worldwide for showcasing technologies for business communication and collaboration.
Integrated Systems Europe (ISE) is the world's largest exhibition for AV and systems integration, a class of technologies which includes Kaptivo's whiteboard collaboration system. Kaptivo's connected whiteboard technology is enabled by a combination of camera and video processing hardware mounted above a whiteboard, as well as patented digital image processing and advanced image processing software that can render a "perfect" digital version of the whiteboard.
Kaptivo's exhibition of its Kaptivo for Meeting Rooms version of this technology earned the firm the Best of Show award in the AV Technology Europe category at ISE 2019 in early February.
Face-to-face for global teams
"These awards acknowledge our unique piece of the digital collaboration puzzle," said Kaptivo CEO David Hsieh. "One of the biggest challenges for enterprise collaboration today is bringing the best, irreplaceable aspects of face-to-face collaboration into the context of digital, global teams. At Kaptivo, we're solving part of that challenge with whiteboard collaboration, and it's great to be recognized for it."
In addition to the ISE win, Kaptivo has been named a finalist for the Best Communications/Collaboration Device Award at the upcoming Enterprise Connect Show in March, an award that acknowledges the importance of Kaptivo's technology to the broader story of business collaboration.
Wins in technology + collaboration
"It's very exciting to be recognized with these two awards together, because while ISE is a show and an award focused more on technical innovation in the AV and integrated systems space, Enterprise Connect focuses more on the total set of challenges for enterprise collaboration," said Hsieh. "These awards together illustrate how Kaptivo is bringing technical innovations to real business problems."
Kaptivo will appear at Booth 1239 at the Enterprise Connect Show in Orlando March 18-21, 2019.
About Kaptivo
Whiteboards are the universal tool for communicating visual concepts--Kaptivo has digitally connected it. We turn any whiteboard--even if it was made in the 1950s--into a digital communication device that anyone can afford, making meetings, lectures or any situation involving a whiteboard better. We're not replacing the whiteboard because it's already perfectly simple. People love writing on a real whiteboard, and we help them do it more efficiently. A secure solution integrated with all major collaboration, video conferencing and LMS platforms, Kaptivo is available for businesses, schools and organizations of all sizes. Kaptivo is privately held and backed by a transatlantic syndicate of venture-capital investors including Benhamou Global Ventures (Palo Alto), Draper Esprit PLC (London) and Generation Ventures (Toronto), with offices in Cambridge, UK and San Mateo, California. To learn more about Kaptivo, visit - kaptivo.com
Contact: Michael Burke, michael(at)msrcommunications.com, (415) 989-9000