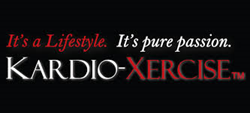 With the holiday shopping season in full swing, we're offering exclusive discounts on a variety of our men's and women's apparel and accessories, as well as our 2015 fitness and meal calendars
Rockford, IL (PRWEB) December 10, 2014
Finding the perfect gift for a loved one or friend can be a difficult task, especially with the holidays only a few weeks away. Kardio-Xercise™, a premier lifestyle fitness brand, has several great gift ideas for health-minded individuals – from fitness apparel to calendars for tracking health and fitness goals. All orders placed by Wednesday, December 17 via Kardio-Xercise's website at are guaranteed for Christmas delivery.
"With the holiday shopping season in full swing, we're offering exclusive discounts on a variety of our men's and women's apparel and accessories, as well as our 2015 fitness and meal calendars," said Oscar G. Castillo, CEO and Founder of KX Evolution, Inc., creator of the fitness brand Kardio-Xercise. "Be sure to take advantage of these exceptional savings by visiting the products section of our website."
To make the online shopping experience even more convenient for its customers, Kardio-Xercise now utilizes PayPal to process all payment methods. Whether paying with a PayPal account or credit card, customers can count on PayPal for its high-level security and quick and accurate processing. Customers can also take advantage of the six-month payment option offered through PayPal for Kardio-Xercise merchandise and the "Eat Right. Be Healthy." Meal Planner. They can also log into their meal planner directly from Kardio-Xercise's website or Facebook page, offering customers complete accessibility.
The 2015 KX Fitness Calendar and 2015 "Eat Right. Be Healthy." Meal Calendar make a perfect last minute holiday gift for family members or friends who are looking for a convenient way to track their health and fitness goals throughout the new year and beyond. The comprehensive fitness calendar serves as a tool which allows individuals to record their daily exercise routines, track their progress and results and monitor their goals – all in a single, simple-to-use location. The "Eat Right. Be Healthy." Meal Calendar is a unique supplement to Kardio-Xercise's online meal planner, which provides information for eating right, including healthy recipes for breakfast, lunch, dinner and even desserts! For more information, visit kardioxercise.com/calendar/ to watch a short video featuring highlights from the calendars.
Order the KX Fitness Calendar and "Eat Right. Be Healthy." Calendar by December 17 to receive them in time for the holidays. The combo pack of two calendars offers an excellent savings of $7 versus ordering each calendar individually. Calendars can be ordered directly via Kardio-Xercise's website. Limited quantities are available and calendars are expected to sell out, so take advantage of the special pricing while it lasts:

Combo-pack of calendars – KX Fitness Calendar and "Eat Right. Be Healthy." Meal Calendar: $25 (plus $3 for shipping/handling)
KX Fitness Calendar: $15 (plus $2.50 for shipping/handling)
"Eat Right. Be Healthy." Meal Calendar: $15 (plus $2.50 for shipping/handling)
About Kardio-Xercise™ :
Kardio-Xercise™ is a multi-faceted fitness brand that was established on the principle that the human body needs attention in order to be at its best. From its high-quality fitness apparel and accessories to its online meal planner and interactive Blog, Kardio-Xercise provides a variety of resources for individuals who are committed to improving or maintaining the health and strength of their bodies through fitness and nutrition. Furthering its mission to create a fitness movement, Kardio-Xercise donates proceeds from its online sales to organizations that are making a difference in people's lives through fitness. Kardio-Xercise is more than a fitness brand. It's a lifestyle. It's pure passion. Kardio-Xercise, A Fitness Movement, The logo "K" with half "X" are all registered trademarks of KX Evolution, Inc. For more information about Kardio-Xercise, to purchase apparel or to access the online meal planner, visit kardioxercise.com.
Media Contact:
Oscar G. Castillo, CEO and Founder of KX Evolution, Inc., creator of the fitness brand Kardio-Xercise, (815) 575-9386, info(at)kardioxercise.com