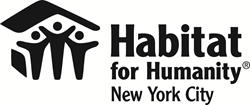 NEW YORK (PRWEB) November 27, 2018
Habitat for Humanity New York City (Habitat NYC), a nonprofit committed to building, preserving, and advocating for affordable homeownership throughout the five boroughs, announced today that Karen Haycox, CEO of Habitat NYC and President of the Habitat NYC Community Fund, was elected to the board of the New York State Community Development Financial Institution Coalition (NYS CDFI). The NYS CDFI Coalition provides an efficient delivery system for community development finance to communities throughout the state that have limited access to capital.
"Ethical lending provides Habitat NYC with an additional tool that enables both the preservation and development of affordable housing. The creation of our CDFI ultimately reinforces Habitat NYC's mission of supporting hard-working families across the five boroughs," said Haycox. "I am honored to join the board of the NYS CDFI Coalition and look forward to working with my new colleagues to magnify our impact in New York City and in communities around the state."
"The NYS CDFI Coalition is thrilled to have Karen Haycox join our Board. Karen's expertise in affordable housing combined with her in depth understanding of the financial needs of individuals of low income are an asset to CDFIs both in NYC and across the State of New York," said Linda MacFarlane, Chair of the NYS CDFI Coalition.
During her tenure at Habitat NYC, Haycox has instituted a bold new vision for the organization, with a goal of increasing the number of families served through construction and preservation to 2,021 by the year 2021. She has also overseen the development of Sydney House, the largest single-structure, multi-family Habitat for Humanity project in the world. Prior to joining Habitat NYC in 2015, Haycox served as Vice President, Fund Development at Southwest Solutions and held a number of senior positions over more than a decade with Habitat for Humanity International in Atlanta.
Haycox is deeply involved in New York's LGBTQ and housing communities, including serving on the board of the Stonewall Community Development Coalition, an organization dedicated to providing New York's LGBTQ seniors with supportive, affordable and safe housing options. She also serves on the board of the Housing Partnership, which assists in the development, promotion, and revitalization of New York City's affordable homeownership and rental housing through an assortment of specialized programs.
Haycox joins the coalition of dedicated, mission-centered financial community leaders led by co-chairs Kim Jacobs and Linda MacFarlane. The coalition works to position CDFIs as the most effective strategy and policy tool to address issues of financial inclusion, housing access, and economic opportunity in New York State.
About Habitat for Humanity New York City
Habitat for Humanity New York City transforms lives and communities by building and preserving affordable homes with hardworking families - and by uniting all New Yorkers around the cause of affordable housing and homeownership. With the help of thousands of volunteers each year, Habitat NYC builds and repairs homes for families across the five boroughs. Learn more at http://www.HabitatNYC.org and connect with us on Facebook or follow us on Twitter and Instagram at @HabitatNYC.
About NYS CDFI Coalition
The NYS CDFI Coalition represents CDFIs across New York State. CDFIs are community-based specialized lenders that serve low income people or businesses in economically distressed communities, often working in market niches that may be underserved by traditional financial institutions. CDFIs provide a wide range of financial products such as mortgage financing for low income or first-time homebuyers and lending for small business and community facilities that help customers build wealth and maintain an ownership stake in society. CDFIs include regulated institutions such as community development banks and credit unions, and non-regulated institutions such as loan funds and venture capital funds.
NYS CDFIs create market-based solutions that provide capital to chronically underserved New York communities; leverage federal and private dollars for economic development; are locally controlled and accountable to their target market; provide financial services and education for low income New Yorkers; and promote responsible alternatives to predatory loans.
Visit our website http://www.nyscdfi.org