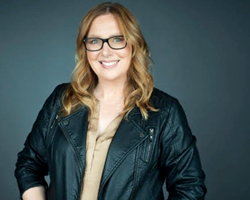 VANCOUVER, British Columbia (PRWEB) November 18, 2021
The Pacific Screenwriting Program (PSP) is excited to announce that award-winning writer Karen McClellan will serve as Showrunner-in-Residence for the 2022 Scripted Series Lab. Starting in January 2022, McClellan will mentor six up-and-coming BC-based screenwriters as they develop her original series in the PSP's flagship training program.
Now in its fourth year, the Scripted Series Lab combines real-world story room experience, mentorship, workshops and information sessions to equip writers with the skills, experience and connections necessary to establish a sustainable career in the province's dynamic screen-based industry. The PSP is a collaboration between Netflix, Canadian Media Producers Association, the Writer's Guild of Canada and Creative BC.
"We are so very fortunate to have Karen McLellan as our mentor Showrunner this year," affirmed PSP President, Brian Hamilton. "Her deep experience as a writer and producer of numerous worldwide hits across varied genres gives her the ideal background for this role. Karen shares our passion for developing local new voices and has never forgotten what it's like to be starting out on the road to building a screenwriting career."
An award-winning writer, Karen McLellan most recently served as Executive Producer and Co-Showrunner of The Next Step, a global hit series playing in over 120 countries. During her tenure, the fictional tween dramedy garnered multiple BAFTA and Canadian Screen Award nominations.
"I am honoured to be this year's Showrunner for the Scripted Series Lab," said McLellan. "Programs like this and the mentorship opportunity it provides is invaluable to an up-and-coming writer, so I'm really excited for the chance to work with the participants on the development of a new series."
Prior to joining The Next Step in its fifth season, Karen co-created and executive-produced the Victoria, BC-set mystery digital series Spiral for which she won a 2018 Writers Guild of Canada award. Her other credits cover an array of one-hour and half-hour shows, including CBC's international hit drama Being Erica and critically acclaimed Cracked, as well as CTV's beloved comedy Robson's Arms. A graduate of the Shaw Media Showrunner Training Program, Karen has developed multiple projects for Canadian and American broadcasters and production companies.
ABOUT THE PACIFIC SCREENWRITING PROGRAM
The Pacific Screenwriting Program was established in 2018 with the goal of building a vibrant screenwriter community in British Columbia. Based in Vancouver, the not-for-profit organization provides support and career-advancement opportunities to BC-based film and television writers at all levels, while generating a deep and sustainable pool of local talent for BC-based series and films. For more information: Pacific Screenwriting Program, Twitter, Facebook, Instagram
ABOUT NETFLIX
Netflix is the world's leading internet entertainment service with 195 million paid memberships in over 190 countries enjoying TV series, documentaries and feature films across a wide variety of genres and languages. Members can watch as much as they want, anytime, anywhere, on any internet-connected screen. Members can play, pause and resume watching, all without commercials or commitments.
ABOUT THE CMPA - BC PRODUCERS BRANCH
The CMPA-BC is a trade association representing member companies across British Columbia engaged in the production and distribution of television programs, feature films, and interactive media content. Producers are significant employers of BC creative talent and assume the financial and creative risk of developing our stories and original content for Canadian and international audiences. CMPA members create content for distribution on traditional film and television, internet and mobile wireless platforms. For more information: CMPA-BC
ABOUT THE WGC
The Writers Guild of Canada (WGC) is a professional association of more than 2,400 English-language screenwriters. WGC members are the creative force behind Canada's successful TV shows, movies and digital series, and their work brings the diversity of Canadian life and culture to the world's screens. The WGC supports Canadian screenwriters through negotiating and administering collective agreements with producers to ensure that screenwriters earn fair pay and benefits. It also advocates for policies that foster Canadian programming and production and boosts the profile of WGC members in the industry. For more information,
visit wgc.ca. Follow @WGCtweet on Twitter.
ABOUT CREATIVE BC
Creative BC is an independent non-profit society formed in 2013 to support the province's film, television, music, interactive digital media as well as book and magazine publishing industries. Creative BC works collaboratively with industry and its government partners to encourage higher levels of production, job creation and investment across all sectors of B.C.'s creative economy. For more information: Creative BC
MEDIA CONTACT: Jive PR | Richard Stafford | richard@jiveprdigital.com